CEJI JOUSTRA DIACLONE OVERVIEW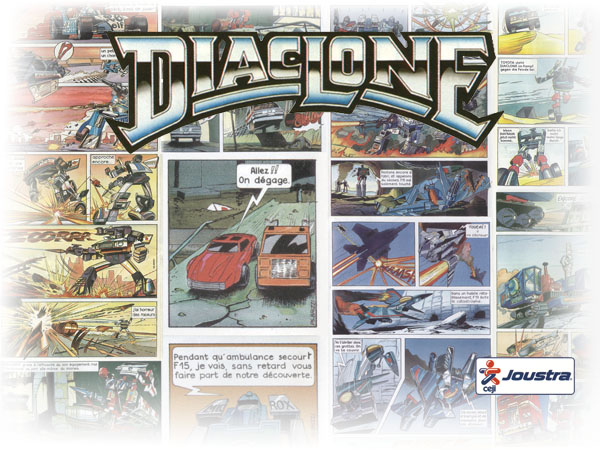 Maybe you grew up with The Transformers and have since come to appreciate their ancestors from Japan, or you were lucky enough to have Diaclone toys sold in your country of youth. Maybe you collected them first as a child and now as an adult, wishing to expand that collection to include Diaclone toys sold abroad. Whichever it is, the group of releases from Europe known amongst collectors as 'Joustra Diaclones' (or just 'Joustra') are a true jewel in Takara's crown. With their awe-inspiring exclusive packaging artwork, unique mini-comic chapters, unsolved mysteries and in some cases staggering rarity, they present one of the most irresistible and frightening challenges to a pre-Transformers collector. This superb toyline was released in Europe in 1984 (Wave 1), with a much rarer second year of toys released in 1985 (Wave 2). In this article we will look at the history, conception, evolution and eventual fate of the Joustra Diaclones. The facts are as clinical as some of the speculation is vague, but the magic inbetween is undeniable.
~ HISTORY & CONCEPTION ~
In the early 1980s, Japanese toy company Takara produced a range of transforming toys called "Diaclone". A story of good vs evil was constructed by Takara whereby Earth was defended by the Diaclone forces against the invading alien Waruder army. The name "Diaclone" was an amalgam of "Diamond" and "Cyclone", the strongest material on Earth and a powerful force of nature respectively in reference to the Earth-defending forces. The robots in this story were not sentient, they were instead lifeless mecha controlled by human or Waruder pilots/drivers.
Takara brought many of these toys to the 1983 Tokyo Toy Show where representatives from toy companies around the world would be attending. The process of acquiring licences to release many of the toys produced by Takara for Diaclone, and indeed a significant number of toys from the Microman sub-line "Micro Change Series", began at this fateful show. Initially, Hasbro released the acquired toys as The Transformers in North America and the UK and GiG (who already had an association with Takara) released their selection of Takara's toys in Italy mostly under the "Trasformer" banner. The licence for mainland Europe was bought by French toy manufacturer Ceji, who in partnership with another French toy company Joustra (Jouets de Strasbourg), released the toys under the licensed brand of "Diaclone".
The toys licensed to Ceji were released as "Diaclone" in European countries such as France, Holland, Belgium, Germany, Austria, Finland etc, in 1984, and later even imported by retailers in the UK, Greece and Abu Dhabi. Takara's Japanese Diaclone toys mostly came packaged with a small Diaclone driver or pilot as they were integral to the original Diaclone story. Samples of these toys were undoubtedly sent to Ceji in Europe by Takara in Japan, as it has emerged that Ceji received the toys already in their styrofoam inserts with the paperwork (stickersheets) already printed in Japan with the new Ceji Diaclone logo on them. The outer packaging was not produced in Japan as Ceji would have to come up with their own marketing and promotion, featuring a representation of the toys more suitable and appropriate to their target markets.
So Ceji, in partnership with Joustra, enlisted the services of artist twins Paul and Gaetan Brizzi to create the story for these "Diaclones" as well as produce artwork for each character's packaging. The artwork created for the Ceji Joustra Diaclones was exclusive to these releases and derived directly from the mini comic strips included with most Ceji Joustra Diaclones telling the story of the toys and the characters. The Diaclone driver concept was gone and the robots were now sentient life forms fighting their own good vs evil battle, but more on this story later. This artwork has become legendary within the Diaclone and Transformers collecting community for its style, vivid colour and originality. Here are a few relevant examples: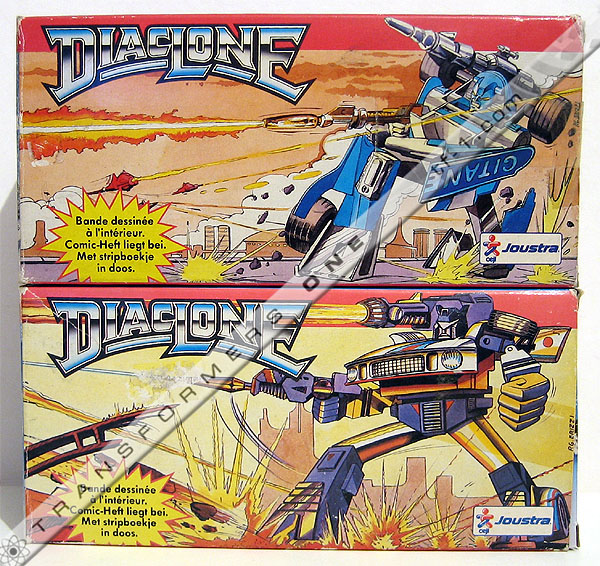 The signature of the artists now renowned in the fandom for their celebrated artwork:
Ceji took out ads in various publications to advertise their upcoming/available Diaclone toys including this advert in Dutch comic magazine Eppo in October 1984:
There are a number of fascinating points that can be taken from the 1984 advert, the first being that there is no mention of "Joustra" or "Diaclone" anywhere. The second is that the cars are shown with Japanese Diaclone drivers which no Joustra Diaclone was released with. These toys could quite easily have been the early Takara Diaclone samples sent to Ceji for evaluation, meaning that this ad was conceived very early in the Ceji Joustra Diaclone timeline. Each image contains multiples of each toy in different stages of transformation, implying that the toys were sent to Eppo and the advert was made in-house based on advice from Ceji.
To unlock the rest of the mysteries contained within the advert we need to study the English translation: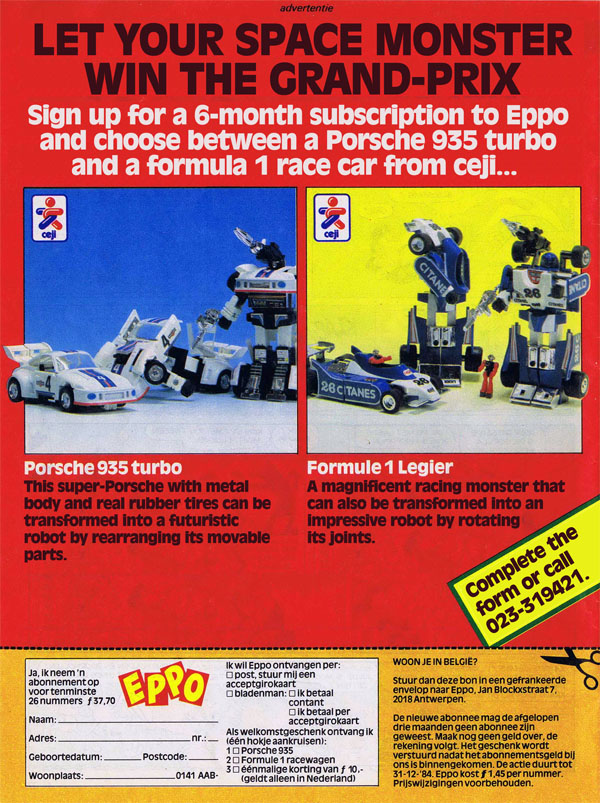 The toys are referred to as "Space Monsters" and a Grand Prix theme is mentioned. The Grand Prix theme is clearly linked to the fact that Ceji had provided Eppo with two race cars to photograph and offer as a subscription incentive. Space Monsters could well be making reference to the original Japanese Diaclone story involving the invading bug-like alien Waruder forces. As we will see later on, Space Monsters as such have very little to do with the eventual published Joustra Diaclone story, so at an early stage in proceedings it could well have been the case that the Ceji representative who was responsible for placing this ad with Eppo gave them a quite brief and vague outline as to the original Diaclone story, resulting in an advertisement in the magazine for Ceji's new "Space Monsters". It could even be the case that Ceji planned to stick very close to Takara's original Diaclone concept, hence the presence of the drivers in this advert.
I don't know if this applies, but having worked a little for Sony and Playstation, Nissan and Mercedes on Gran Turismo 5 events, I get to see how something incredibly specific (like a car/track/setting/mode combo on a video game) being described by a layman or non-specialist can be so vastly different and lacking in specific details when passed from one agency/person to another for reasons of promotion and publication. So I can totally picture a cigarette-smokey telephone conversation with some employee at Ceji describing to the Eppo staff what these toys are about "Well, they're originally from Japan and part of something called Diaclone where some evil space monsters called Waruders are invading the Earth...bla bla", and the person at the other end of the phone is required to, in a very very small amount of words, create an eye-catching image/spiel combo to sell the product and make it attractive. Now if you heard the Diaclone story once, what key things would you pick out of that story? War, robots, space monsters. The rest of the ad about the Grand Prix surely comes from the race car nature of the vehicles being featured.
Here are images of the above two toys, the Porsche 935 Turbo and Ligier JS11 F1, in their original Japanese Diaclone packaging: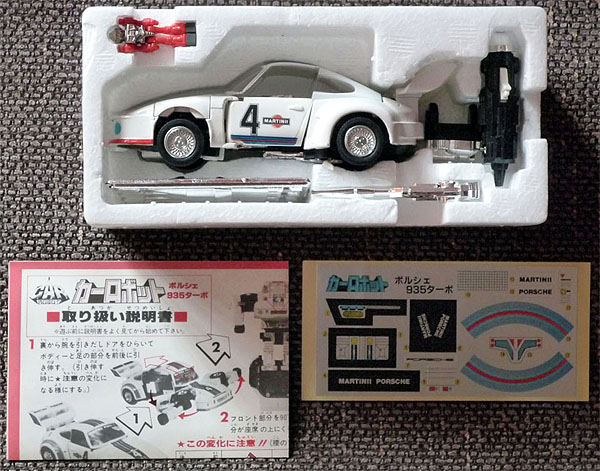 So considering the fact that this advertisement in Eppo would have come out in late 1984 when the Ceji Joustra Diaclone toys could already have been on store shelves throughout Europe featuring the Brizzi artwork and storyline, how come the Eppo ad featured only Ceji's logo and the now-outdated Diaclone driver and Space Monster concepts?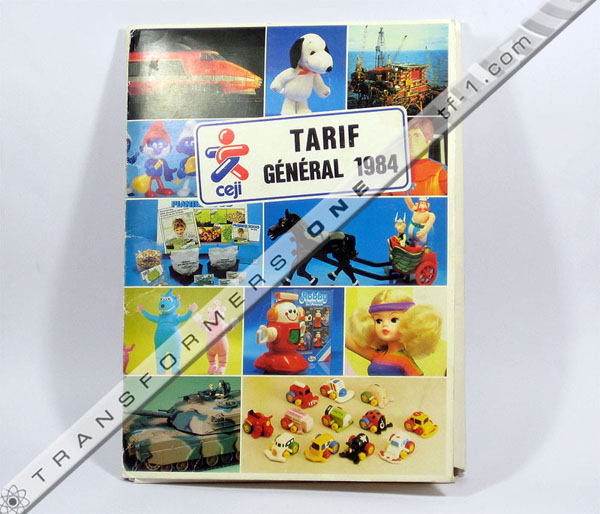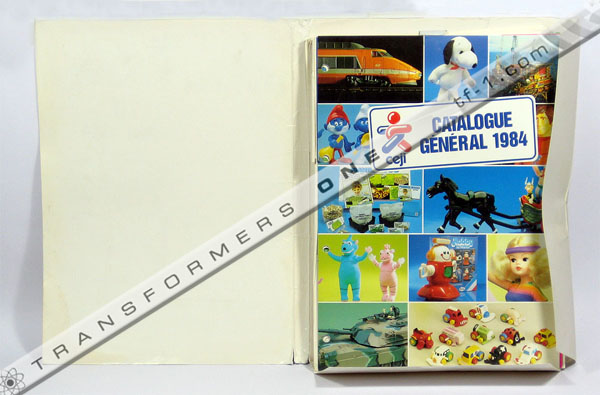 Let's start trying to answer that question by looking at a very early January 1984 Ceji Tarif Général. This catalogue of Ceji products planned for 1984 would have been distributed to dealers and retailers featuring promotional photography of the toy lines being offered. What's beautiful about this piece of paperwork is the fact that there are order sheets for nearly all the toy lines in triplicate copy. There was also a very nice black and white photographic insert showing a very familiar transforming robot...
In addition to the beautiful image of the Diaclone Ligier pre-Mirage, we can see the layout of the Joustra "Diaclone" order sheet. The top-right corner shows an early logo design for the Joustra "Diaclone" line, no sign of the stylised logo created by the Brizzi brothers yet. Another thing that indicates that this paperwork is pre-Brizzi and possibly from a time before Takara stock was received is the exact nomenclature used by Ceji Joustra for their upcoming Wave 1 toys. The eventual Diaclone Truck (Joustra Diaclone Battle Convoy) is referred to as "Camion Mack", Caméra Robot (Joustra Diaclone Microx) is referred to as "Appareil photo Nikkon" and Robocolt (Joustra Diaclone Browning) is called "Pistolet Browning". Some of the minibot names are quite different too. Interestingly, Diaclone (neither Joustra nor Revell) are not listed in the contents.
Further evidence to support the mid-to-late 1984 introduction of Ceji Joustra "Diaclones" to the European market comes in the form of a 1984 Ceji general catalogue. This is incredibly similar to the Tarif Général above and similar also to the 1985 Ceji Revell Catalogue General featured later in this article, but obviously only showcasing the then-planned upcoming 1984 Ceji range, including Ceji Joustra items. Remarkably, "Diaclone Joustra" and "Diaclone Revell" are now listed in the contents but there are absolutely no Diaclone or Transformers shown in the catalogue at all. If this catalogue that was distributed to toy retailers, stores and various promoters still did not feature anything about an upcoming Diaclone line other than the name, then it demonstrates just how late in the day everything must have come together in terms of Ceji's receipt of Takara's stock and the creation or finalisation of the "Diaclone" brand. There must be a supplement for this 1984 Ceji catalogue that was added showing images of the upcoming "Diaclone Joustra" line.
Let's have a closer look at the sections mentioning "Diaclone Joustra" and "Diaclone Revell" on the contents page of the 1984 Catalogue Général:
It's possible that when the paperwork was done between Takara and Ceji, and Ceji received Diaclone stock from Japan in mid-to-late 1984, the original plan would have been to release a Diaclone toy line in Europe incredibly similar to that issued in Japan. Hence the use of the word "Diaclone" which comes from the aforementioned "Diamond Cyclone" and would have had to be used only with permission. Also consider the Ceji Revell kits which used model kits and artwork similar to that used originally in Japan by Takara/Nitto for their 1/60 scale Diaclone model kits:
| | |
| --- | --- |
| | |
The Dasher kits, as an example, are very un-Brizzi and un-Joustra. The whole Transformers-like sentient robot story and character names in my opinion came with Joustra and the Brizzis, and the Eppo advert and Ceji 1984 catalogue are from before that time apparently, or at least the planning for them must have been done before the Ceji Joustra Diaclone concept and presentation was finalised and signed off. Remember, Ceji in 1983 went to Japan and bought a licence from Takara to sell "Diaclone" toys in Europe. This was before Hasbro created the Transformers story. The Eppo ad may well have been conceived before the Transformers became huge in the world and Ceji may have decided "We need a story to go with this and we should copy Hasbro". So in order to get (or change) a story, maybe they called on the Brizzis. Joustra do the packaging (Have you ever looked at Joustra diecast cars? the boxes look just like Joustra Diaclone!), the Brizzis do the illustrations and stories...and goodbye to the Diaclone drivers.
The missing Diaclone toys and subsequent lack of promotion in the 1984 Ceji catalogue plus the possible late receipt of Takara stock could have necessitated some hasty advertising in publications, hence the lack of brand development in the Eppo ad and the disparity between the advertised format of the toys and their eventual portrayal.
An alternative explanation to the Ceji-only Eppo advert is provided by Mijo:
"This info comes from the court case between Ceji Arbois and Polistil that Christophe found a couple of months ago. Point 18 claims: (18) In Germany and the United Kingdom, Arbois distributes its products through sales subsidiaries. In other EEC countries it delivers and sends the bill directly to the clients together with a commission for the agent who takes the order.

I think it's safe to assume that the same thing happened with the Joustra Diaclone line. There was no Dutch Ceji subsidiary and the toys were sold directly to clients in the Netherlands by Ceji sales representatives (or Joustra representatives). This means they sold them directly to shopping chains like V&D, Intertoys etc. Seeing that Arbois was the one who sold directly in the "other" EEC countries, one would expect Joustra to have done this too. But maybe, for whatever reason, Ceji decided to do the selling of the Diaclone line to these other EEC countries themselves, which could explain why Ceji is referred to in the Eppo ad. VNU (publisher of Eppo and Kijk) will have been contacted by a Ceji agent for the promo. This is a possible explanation why the Joustra brand was absent"
Even in a French JouéClub 1984 catalogue there are 2 small adverts for the Ceji Joustra Diaclone "Multiforce14" and "Truck" (correct names now) and actually featuring Joustra Diaclone toys as opposed to Japanese stock versions, but still no Joustra logo, only Ceji, so maybe it's best not to read too much into the presentation of these adverts after all:
~ WAR ON DIACLONA - THE STORY ~
To the Ceji Joustra Diaclone story...
The "War on Diaclona" story was conceived and illustrated by the Brizzi brothers, featuring many well known Diaclone and Micro Change toys released previously by Takara in Japan, and now available in Europe through Ceji Joustra. There are a number of parallels between this Ceji Joustra Diaclone story and the original Diaclone story, as well as the concurrently-created Transformers story that Hasbro's marketing department dreamt up.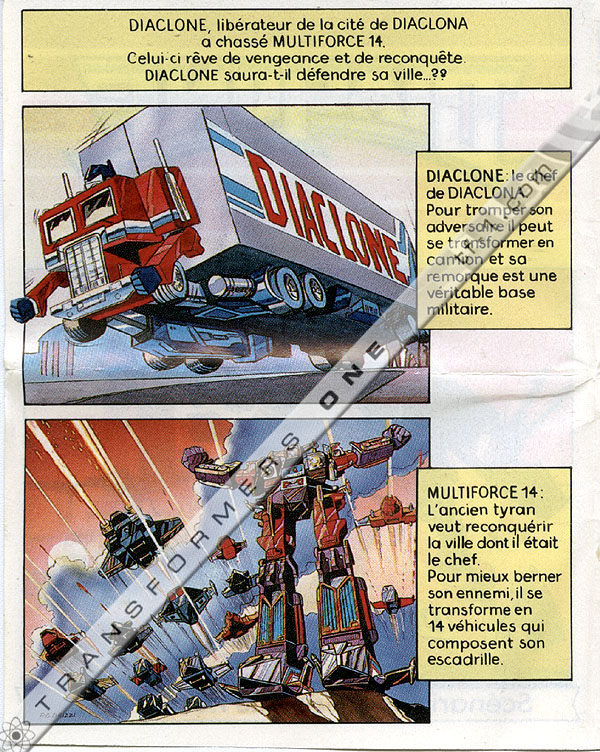 This is a scan of a page that is included in all the Ceji Joustra Diaclone mini comic strips, a piece of paperwork that also doubled up as a mini toy catalogue, and here we are introduced to the main protagonists in the War on Diaclona story. There is "Diaclone" who leads the forces of good, the toy that was previously the Japanese Diaclone Battle Convoy and subsequently Autobot Commander Optimus Prime, his most famous incarnation. The villain of the piece is "Multiforce14", originally the Diaclone Gats Blocker toy who also saw release in Italy by GiG as Dia Gats, and in the US by Takara as Multiforce in the Diakron and Kronoform lines and also later in the UK as the Grandstand Convertors Alphatron. "Diaclone" had previously liberated Diaclona City from the evil tyranny of Multiforce14, but the battle appeared to be starting again.
The War On Diaclona story was to be spread over 10 mini comic chapters encompassing what has become known in the collecting community as 'Joustra Wave 1', the first year of Ceji Joustra Diaclone toys. Here are a few of the comic chapter front pages: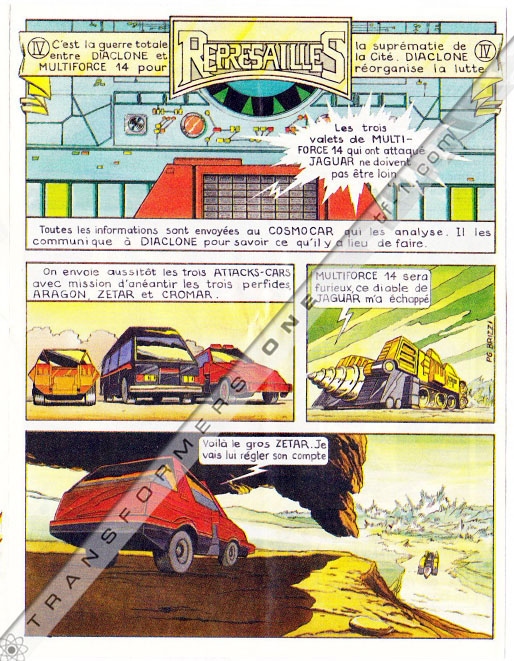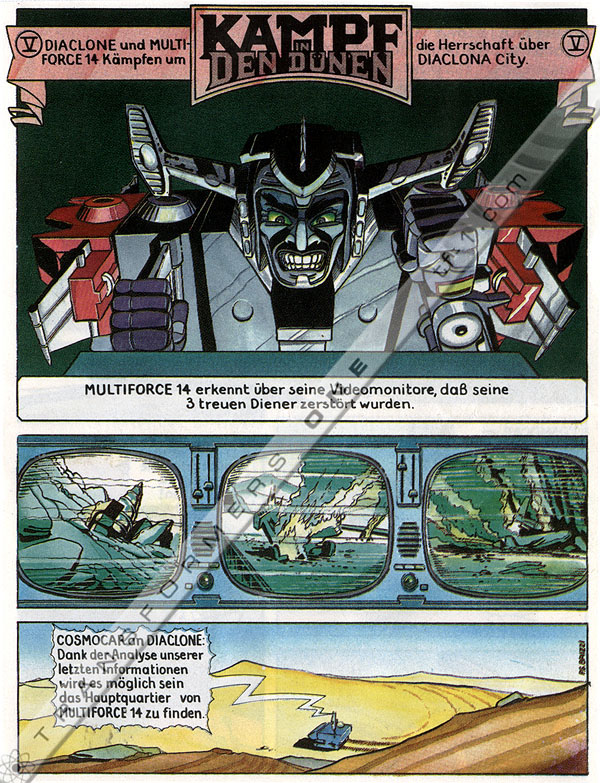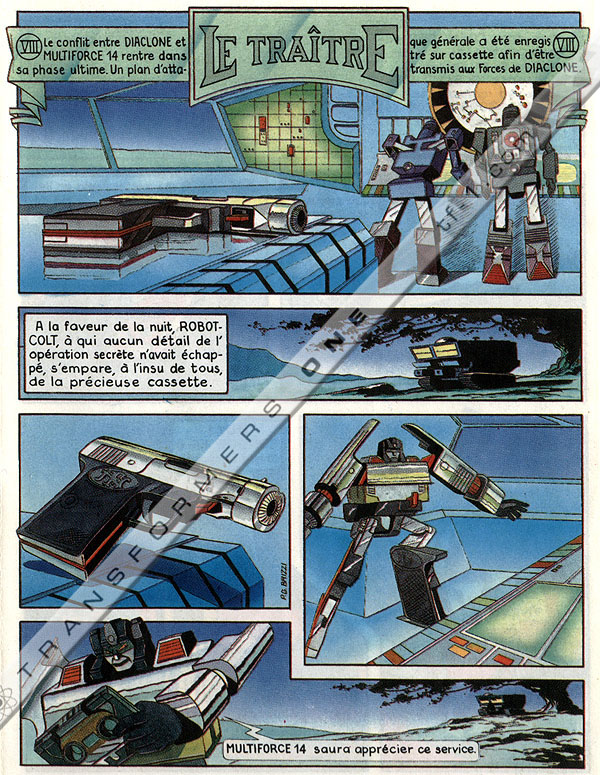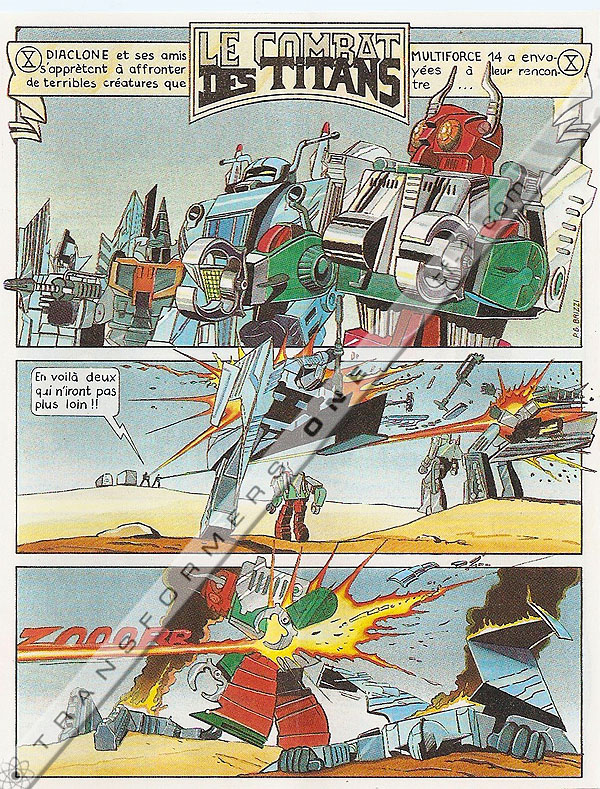 Looking at the various panels of the comic chapters we are introduced to even more characters in the story, characters we may have come to know and love as Transformers, Autobots, Decepticons and so on. The basic premise of the story is that Multiforce14 springs a surprise return on Diaclona, sparking a meeting of the Diaclone council to mount a retaliatory attack and eliminate the threat once and for all. The story takes some amazing twists when viewed from a Transformers point of view with the Ceji Joustra Ambulance (pre-Ratchet) depicted as a female, the pre-Reflector and pre-Thundercracker being good instead of evil as they were in The Transformers, the minibots and Powerdashers being evil and the Ceji Joustra Diaclone Robocolt "Browning" being an evil Soundwave-like spy. Chapter 10 finishes with the forces of Diaclone defeating Multiforce14 and his allies "Microrider", "Waldalos" and "Microrobots 1 & 2", who were never released as Ceji Joustra Diaclones, only Ceji Revell modelkits!
These comics were advertised on the front of Joustra boxes as being available in French, Dutch and German, but no Dutch-translated comics have been found yet. Chapters 1, 4, 5, 6, 8 and 9 have been found in German so far, all have also been found in French with the exception of chapter 5 which has only ever been found in German. Chapters 2 and 3 have not been found at all and there are doubts as to whether they were ever available with a Wave 1 toy. Typically, the characters featured in the comic most prominently are the ones which that chapter is released with, but that system appeared to have been abandoned by the latter part of Wave 1 where you could have ended up with any old comic in a Joustra toy, and then of course they were removed from Wave 1 altogether apparently due to licensing issues.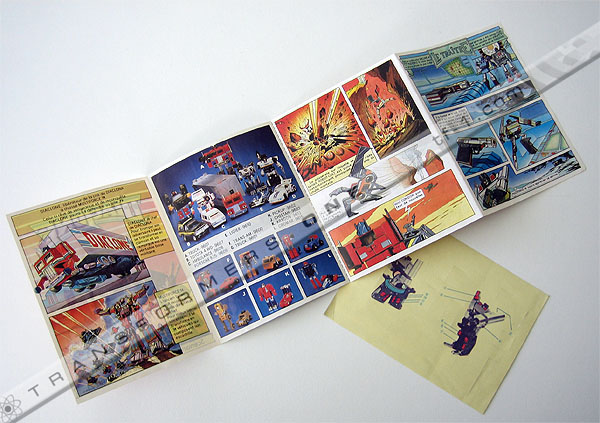 ~ WAVE 1 ~
We've talked about the characters involved a little bit, and made mention of Joustra Wave 1, but which toys did actually make it to the Ceji Joustra Diaclone toy line? The War On Diaclona story made up just six pages of the mini-comic, two of its pages were dedicated to a mini-catalogue of sorts.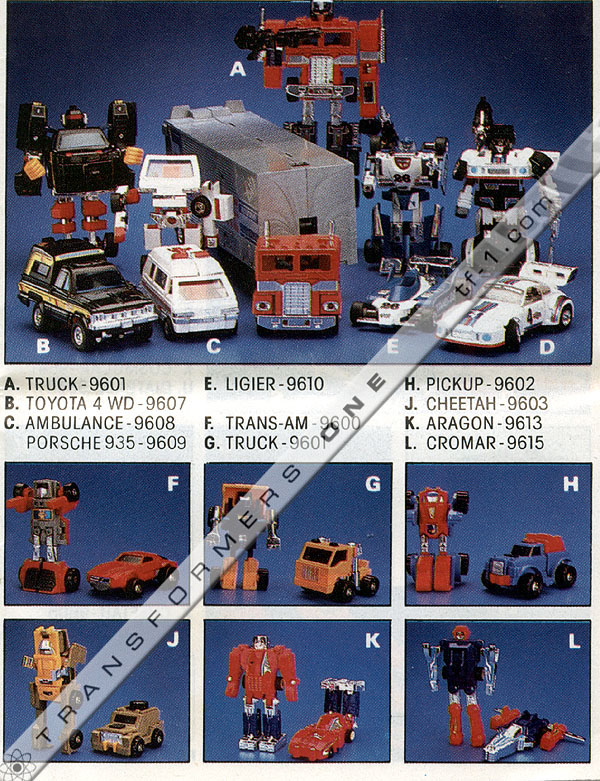 The scans above and below are from the catalogue pages of the mini comics found in many Ceji Joustra Diaclone releases in Wave 1. We can see that in the first year of their toy line, Ceji Joustra decided to release the Diaclone Battle Convoy (Diaclone Truck), 4 Diaclone Car Robots (Toyota 4x4, Ambulance, Ligier, Porsche 935), 4 Micro Change mini cars (Trans-Am, Truck, Pick-Up, Cheetah), 3 Diaclone Dashers (Aragon, Cromar, Zetar), 2 Micro Change Cassettes (Jaguar, Condor), a Diaclone Jetrobo Hi-Speed Fighter (F 15), a Micro Change Microx (Caméra Robot), a Micro Change M1910 Gun Robo Browning (Robocolt - 2 colours), the Diaclone Diatrain (Diatrain), Diaclone Cosmo Roller (Cosmocar), Diaclone Gats Blocker (Multiforce14), Diaclone Change Attacars (Van, Turbo2000, Cheetah) and the Micro Change Watch Robo (Kronoform - 3 colours).
Absolutely all the toys pictured in the mini catalogue are original Takara Japanese Diaclone or Micro Change toys, complete with Japanese factory stickers, moulding and colours which in some cases were not seen in that exact same format for the actual Ceji Joustra Diaclone line. This is of course quite typical for a toy line where the paperwork and promotional material is produced far in advance of the actual release of all the items or in a rush, and we all know what kind of confusion stock photography can cause!
There are a number of interesting errors in the catalogue, for example, Multiforce14 has not been given an assortment number, Porsche 935 does not have an assigned identification letter, Diaclone Truck and minibot Truck have been given the same assortment number and Toyota 4x4 has ended up with yellow Diaclone Hilux fists!
Let us now concentrate on the toys that were actually released, their special packaging and unique contents: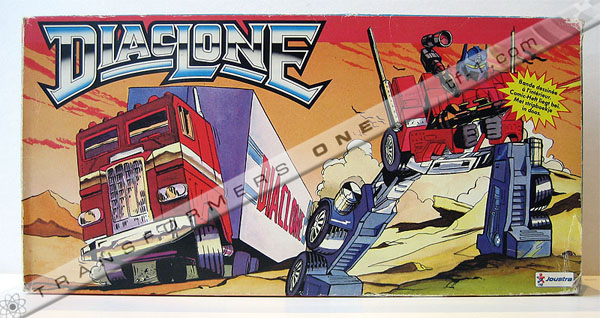 The Ceji Joustra Diaclone Truck is the only other version of this famous and well-used mould other than the Japanese Diaclone Battle Convoy to actually have the "BATTLE CONVOY - DIACLONE" text on the side. The toy features the Diaclone-style metal plates in the trailer and bloated accessories, but the colours are the same as the first US Transformers grey-roller Optimus Primes. The styro is also not Diaclone, but Transformers styro. This toy initially came with Chapter 9 of the War On Diaclona comic story and its truck mode box art was featured in that comic, but the full-size version of its robot mode box art is not featured in any comic, not even chapter 10. Notice how his boxart has him holding Diaclone Trainrobo's gun and having the prototype Battle Convoy's shoulder attachment, showing that a number of the Brizzi drawings were based on old Diaclone literature.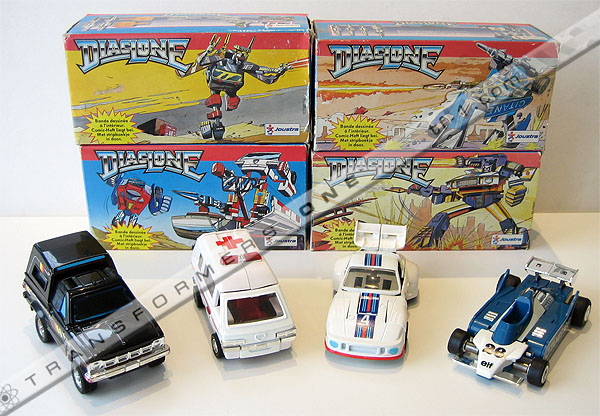 My personal favourite category of Ceji Joustra Diaclones are the toys that used to be Japanese Diaclone Car Robots and went on to become Transformers Autobot cars. The above four toys released in the first wave feature some of the most dynamic and eye-grabbing artwork of the entire series. The poses held by the characters on their boxart are featured in the corresponding mini comics/catalogs included with each toy. It is still not known why the Pick-Up is featured on Ambulance's artwork, but much remains unanswered about the comics. The Toyota 4x4 was considered to be the rarest of the cars by quite some margin until so many turned up in 2012, and the Porsche 935 is the easiest to locate. The Ligier has "Citanes 26" on the side, so no GiG-like censoring of cigarette sponsorship. The cars came originally stamped "TAKARA JAPAN" much like the first Diaclone runs, but later shipments contained the updated Takara + dates + Kanji copyrights, with Ligier having the Pat Pending stamp originally. The Joustra Diaclone Truck also came with both stamping types.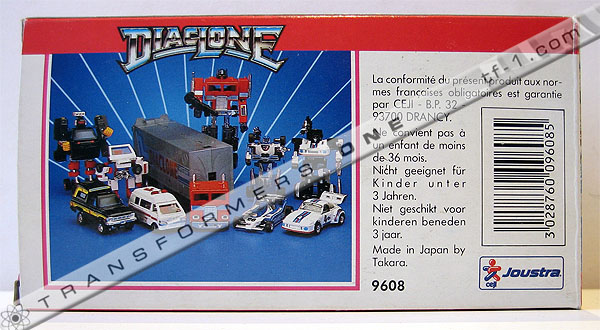 Notice that all the cars (and pre-Optimus) have the same red stripe around the top of their boxes, acting as a sort of sub-category identifier, and these toys are usually grouped together in stock photography.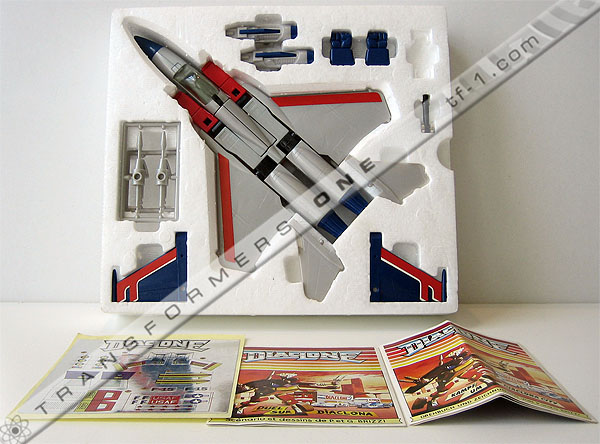 The Ceji Joustra F 15 is an interesting case that has already been well-covered here. The box artwork has undoubtedly been based on the blue Diaclone Acrobat F-15 (pre-Thundercracker), but the toy in the packaging is of course a grey pre-Starscream. This is also quite a special release as it is the only one found to come with two versions of the same comic, one in French and one in German (again, no Dutch). Notice that the styro space for the Diaclone driver is left empty, for reasons covered previously. The moulding on the toy is closer to pre-rub Transformers as opposed to Diaclone, which would have had a hard plastic nosecone instead of rubber and sharper wingpoints. A more thorough investigation into the reason for the colour difference between the boxart and the toy is carried out here towards the end of the article.
Quoting from that article: "Another theory is that this could have something to do with the early pre-rub Thundercrackers with the sanded wing tips. The original Diaclone F15s were hugely flawed moulds, and if you look at a Joustra F15 box you will see the grey jet pictured on there never has its canopy properly lined up with the rest of the body because the hard plastic nosecone was so heavy the head would always roll back and so would the canopy, and also the nosecone doesn't stay up in jet mode. The first Thundercrackers shipped to Hasbro in 1984 had to have their sharp wingtips sanded down manually! I have one of these early Thundercrackers and it is an absolute wonder.
If this issue was highlighted at that time, I wonder if this was cause for concern and Takara exchanged the shipment of Thundercrackers with sharp unsafe wingtips with Starscreams (from a similar era these have not been found with sanded wingtips). Japanese Diaclones are the only F15s (apart from Mexican TFs and Ceji produced Euro TFs) with plastic nosecones, this mould went through probably the biggest change from Japan to other countries in 1984, even GiG and Joustra. I wonder if this delay or massive change in moulding and overall design could have meant that there were not Thundercrackers available for this huge original shipment to Ceji Joustra, especially in the quantities that they would have purchased from Takara. Maybe the Joustra F15 which shows up on the 2nd hand market as much as the Porsche was hugely popular, and they (Ceji) burned through grey F15s and when Takara finally got around to shipping Thundercrackers they went into MB boxes in some small quantity after the takeover and stock purchase by MB?".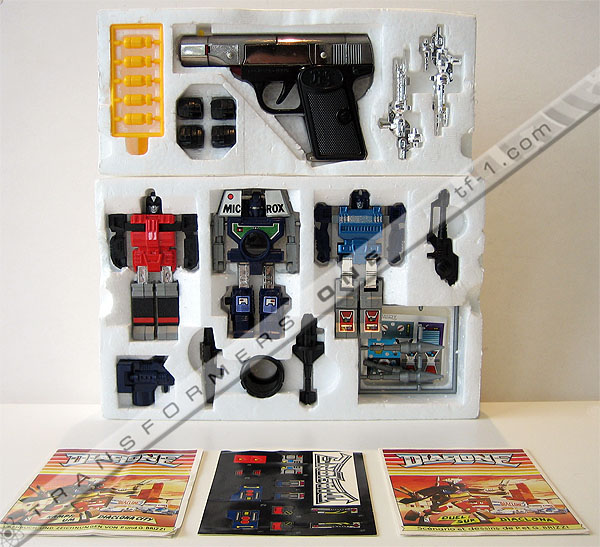 As previously mentioned, a number of Takara's Micro Change Series toys were also repackaged into Ceji Joustra "Diaclone" boxes, such as the red and blue versions of the MC-07 Gun Robo M1910 Browning, called "Robocolt" in Europe. Also released by Ceji Joustra as Diaclone were the MC-05 Microx Camera and MC-06 Watch Robo. These releases were pretty much identical to their Japanese counterparts in moulding and colour. The Watch Robo was available in gold, silver and black but closer to the US Kronoform release than the original Japanese Watch Q or MC releases. The F 15 and these larger Micro Change releases have the blue identifier stripe on the box, and the only tie these toys have together is the fact that they were depicted as evil characters in The Transformers (Starscream/Thundercracker, Reflector and a different gun robo: Megatron), and these particular toys are usually grouped together in stock photography as well, along with the Ceji Joustra Diaclone villain, Multiforce14:
Certainly they have not been grouped together because of their Microman heritage since the F 15 and Multiforce14 are actually Diaclone toys. Also, it's not a Ceji Joustra Diaclone story tie either, since in the War On Diaclona story the F 15 and Caméra Robot are on the side of good, whereas Multiforce14 and Robocolt are evil. Since this stock photography would have been done in the early stages of the line (hence the use of Japanese MC and Diaclone toys), the plan for the War On Diaclona story might have been different back then, with the good and evil factions not yet finalised.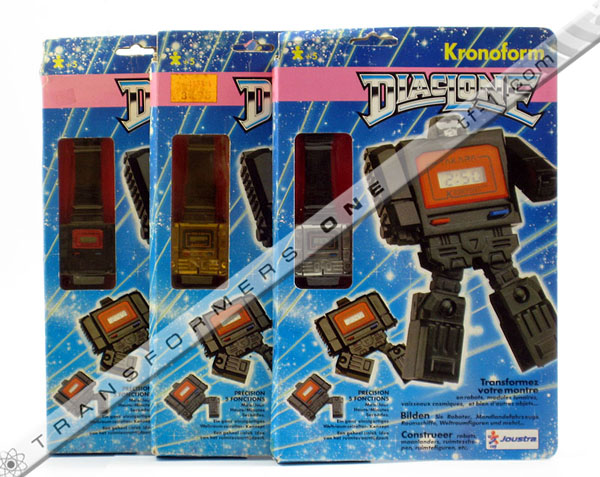 The Watch Robo is called "Kronoform", a possible nod and licensing requirement laid out to Ceji Joustra for using a toy so heavily featured in Takara's own US Kronoform line at around the same time. You might have noticed that the watch "Kronoform" had a pink stripe across its packaging, much like the other carded items available in Ceji Joustra Diaclone Wave 1:

The 3 Diaclone Dashers, 4 Micro Change minicars and 2 Micro Change mini-cassettes all have the aforementioned pink stripe on their packaging and appear to have been grouped together as a result of their size and price-point. This is again not a faction grouping as none of the toys here were all Diaclone/MC, Autobots or Decepticons or good/evil in War On Diaclona. The Condor, Jaguar and Pick-Up are quite easy to find and appear to have been the result of many case finds, or unsold store stock, just as with the Kronoform. The Dashers are harder to find than the cassettes and most minis, but the hardest of the carded items appear to be the Zetar (Powerdasher Drill), Truck (Huffer) and Cheetah (Brawn). The Cheetah minibot comes in two distinctive moulding and stamping variants, the other minibots could conceivably have a variant version too. I have refrained from referring to any of the mini cars as "pre-Brawn" or "pre-Windcharger", because in fact these Ceji Joustra Diaclone mini cars come with Autobot factory stickers!
With the minibots being some of the earliest moulds to be released by Hasbro as The Transformers in North America in 1984, and Takara having diverted significant amounts of their production towards the sweeping worldwide phenomenon that was The Transformers, it should not be hugely surprising that the stock of mini cars received by Ceji Joustra from Takara was already possibly earmarked for Hasbro and The Transformers, hence the Autobot symbols on the sealed "Diaclone" toys. At the very least, it is plausible to believe that when it came to the manufacturing of these toys and their factory branding, it was easier for Takara to just go with the wishes of their largest client Hasbro and produce everything to that specification. It could be a related fact that GiG in Italy released almost the entire range of Takara's Diaclone and Micro Change lines, with the exception of these minicars.
This is not the only place you can find Autobot symbols on a Ceji Joustra Diaclone release. Here is an image from the back of the Joustra Diaclone Truck's packaging: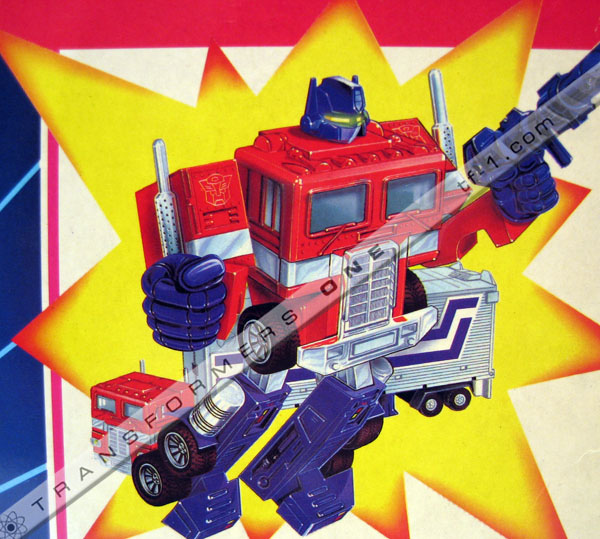 The use of Jeffrey Mangiat's original Transformers Optimus Prime artwork on the back of the Joustra Diaclone Truck's packaging is very surprising indeed, but understandable considering the time at which this toy would have seen release, the imminent (or concurrent) arrival of Transformers, the licence from Takara and Ceji Joustra's opportunity to take advantage of the growing global popularity of Optimus Prime and The Transformers in mid-to-late 1984 even if the cartoon or comics were not introduced to mainland Europe until 1985.
The remaining toys from Ceji Joustra Diaclone Wave 1 are Diaclone items that were not used in The Transformers, and yet played quite a significant role in the War On Diaclona story. Multiforce14 was of course the main villain of the story, Cosmocar and Diatrain were prominently featured as good characters in more than one mini comic chapter.
Finally on the toys we have the Diaclone Change Attackers (Attacars) which were pull-back and flip-open attack vehicles about the size of the Powerdashers. Astonishingly, despite their small size and tiny boxes, these toys actually came packaged with a mini comic chapter, but it seems that at some point they ceased including them with these toys as recent case finds of attack cars have shown.
These little toys were given their own green sub-category stripe on their packaging. It is interesting that so many of these Change Attackers come with sunfaded box fronts. It has been discovered through the childhood recollections of European collectors that these toys were often sold in petrol stations as well as toy stores and department stores, specifically in France. If these small toys were the primary items in a store display (thanks to their space-saving small attractive packaging), it would explain why so many have turned up with bleached or sun-faded packages.
But again, recent case finds are ensuring that plenty of case-fresh examples are penetrating the marketplace as well.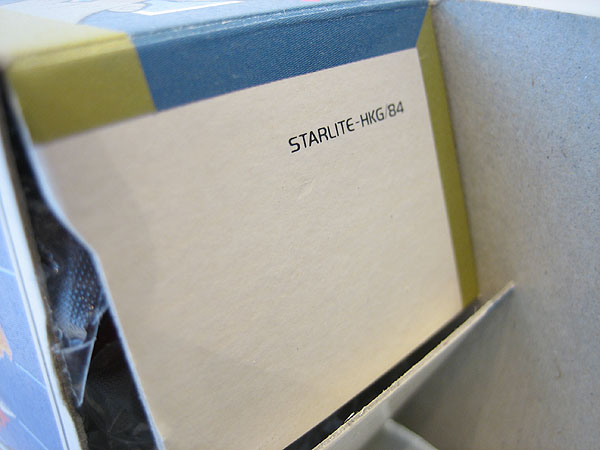 The inner flap on this Turbo2000's box says "Starlite HKG '84", indicating that these toys which were manufactured in Macau by Takara, had their packaging printed by Hong Kong company Starlite who have many toy manufacturers on their client history list. The stock photography used on the packaging for these 3 toys is very significant, so keep it in mind for a little later in the article!
With the Brizzi-inspired Ceji Joustra Diaclone mini-comic story seemingly completed at the end of Wave 1 with Chapter 10, here's the list of mini comic chapters and the toys they were known to have been initially released with before things became more random:
Chapter 1: "Surprise Attack" - Porsche 935 / Ligier
Chapter 2: Never seen, thought to be first appearance of mini cars
Chapter 3: Never seen, thought to be defection of Jaguar from Multiforce14
Chapter 4: "Retaliation" - Van / Turbo2000 / Cheetah
Chapter 5: "Fight In The Dunes" - Diatrain
Chapter 6: "Fire In Space" - F 15 / Caméra Robot
Chapter 7: "Wild Roads" - Ambulance / Cosmocar
Chapter 8: "Traitor" - Robocolt
Chapter 9: "In The Shadow Of The Enemy" - Toyota 4x4 / Diaclone Truck
Chapter 10: "The Battle Of The Titans" - Multiforce14
The storylines for the never-before-seen chapters 2 and 3 have been extrapolated from the surrounding chapters and their endings/intros. The belief that chapters 2 and 3 were never released stems from the fact that all of the larger Wave 1 toys (even the three little Attack Cars) already have a comic chapter assigned to them, and none of the 9 carded toys (mini cars, cassettes and Dashers) or Kronoform ever came packaged with a mini-comic, so how were chapters 2 and 3 made available, if at all? Were there plans for other toys in the line (Waldalos/Warudaros etc?) with which those comics would have been associated? Could they have been store exclusives or special items offered through incentive-driven promotions such as the Dutch Eppo advertisement? If indeed the missing chapters include Jaguar and the mini cars (Pick-Up and Cheetah do not appear in any other chapter), could the associated chapters have been offered in particular stores for buying a certain number of minicars or carded items? Only the Brizzis can provide the missing artwork for those chapters.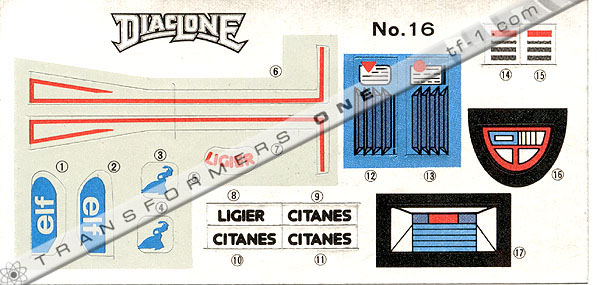 It is worth having a look at the other piece of paperwork that came with the non-carded Ceji Joustra Diaclone releases in the first year; the stickersheets. These came with the toys in the styro from Takara, but instead of the Japanese Diaclone logos on the front, they were replaced with the Ceji Diaclone logo. Since these toys did not come with instruction sheets (Takara probably found it cost ineffective to print them in a new format unlike Diaclone), the sticker application map would be printed on the back of the sheets in most cases.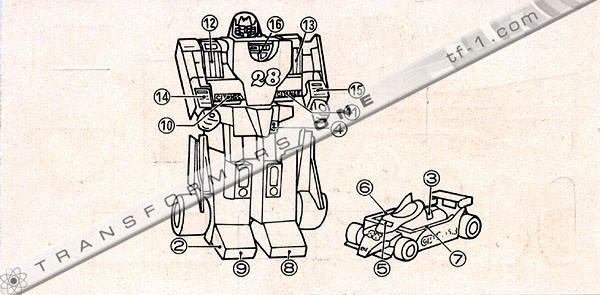 Before we wrap up Wave 1, there is a very significant question that we should really attempt to answer; if Ceji representatives showed interest in Takara's toys in 1983, what caused this big delay in getting stock and producing a brand? To answer this we must put all of the above discussed theories and all the above mentioned Wave 1 toys into a summative timeline...and the result leads to some quite shocking revelations, if indeed they are close to what actually happened:
1983 Tokyo Toy Show - Ceji representative(s) see Takara's Diaclone and Micro Change toys, decide they would like to acquire a licence to market and sell them in Europe

1984 (early) - Still nothing has been sorted out or agreed, therefore the 1984 Ceji trade catalogues cannot feature any evidence of Diaclone or Micro Change toys, initially order sheets with some early names, then only a listing in the contents

1984 (early-to-mid) - Finally the details of the arrangement with Takara are finalised and Ceji can begin receiving stock from Takara

1984 (mid-to-late, October) - Ceji now have Takara Diaclone stock, there has been no trade or industrial promotion of these toys because the catalogue for 1984 has already been published before the deal with Takara was finalised, so they must hastily get the word out to publications and vendors and the public that a major new line of transforming toys are coming to Europe -> Eppo advertisement in October 1984 features Diaclone toys with Diaclone drivers, no evidence of "Diaclone" branding. "Space Monsters" theme and Diaclone driver show that Ceji were planning a toy line similar to what was released in Japan.

1984 (mid-to-late) - The Transformers are here, they are taking over the world. Ceji must compete with this (or take advantage of it) and they bring the Brizzis into the "Diaclone" project to create a story line, good vs evil, LIVING robots...very similar to The Transformers. But all the toys that Ceji have ordered are from Takara's Diaclone line...So what do Ceji do? They order a massive amount of MICRO CHANGE toys from Takara as well! The MC toys arrive later than the Diaclone toys (and maybe in bigger numbers), and maybe they didn't get all the ones they wanted (Soundwave, Megatron, Rumble) so they have to make some of the Diaclone toys villains to make up the numbers, as well as include some toys like Waldalos and Microrider to make up the numbers in the Brizzi story and comic.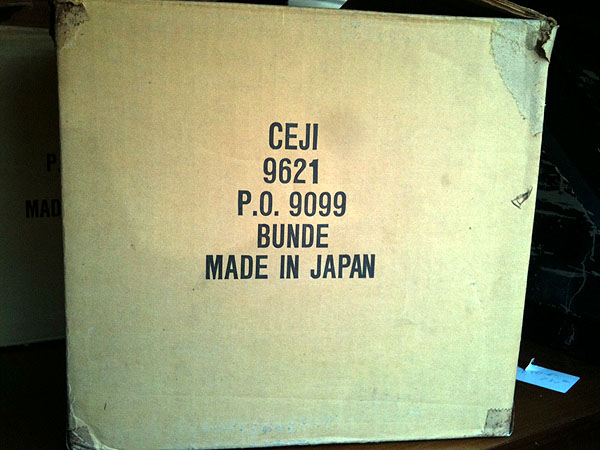 Think about it, which Ceji Joustra "Diaclone" toys are the easiest to find in perfect unused condition and show up in the biggest numbers in case finds or old store stock? Minibots, Kronoform, Cassettes and Robocolt (to a lesser degree). All Micro Change Toys!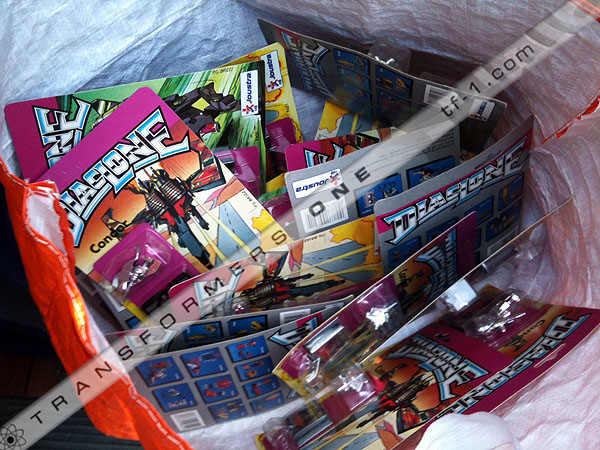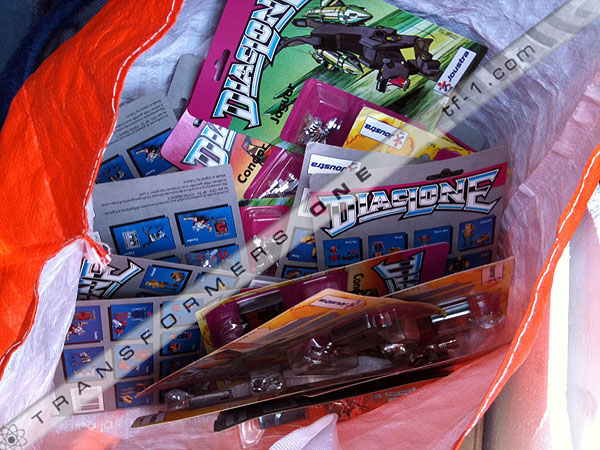 And remember the whole Ceji Joustra toyline was called "Diaclone"! Maybe they originally never planned to include Micro Change toys at all. In fact, is it possible that the whole reason the release of the "Diaclone" line in Europe experienced delay was because Ceji suddenly decided they wanted these MC toys in addition to the Diaclone toys they had already ordered, forcing the deal with Takara to be re-negotiated? This provides an even better explanation as to why the Ceji Joustra minibots have Autobot stickers; by the time Ceji Joustra got minibot stock, Takara were only producing Transformers-branded minibots. Robocolt and Caméra Robot (pre-Reflector) were not a problem because these toys were not yet being released for Transformers in late 1984, so Caméra Robot still said "Microx" not "Reflector", and Robocolt was never used for North America. The Condor and Jaguar are also identical to pre-rub Laserbeak and Ravage, another indication of shipping date from Takara to Ceji Joustra, and when you consider that the story for chapters 2 & 3 are thought to include the first appearance of the minibots and Jaguar, their late shipping may hold further clues as to the non-appearance of those chapters to date beyond just featuring carded toys. It should be noted that Paul Brizzi has expressed his belief that all chapters were published, and that eventually the comics had to be pulled due to licensing issues...
That avalanche of speculation concludes the section on Wave 1 of the Ceji Joustra Diaclone line. At this point Transformers would have been established as a globaly successful brand, already well underway in the USA and UK with their introduction to mainland Europe and Japan imminent.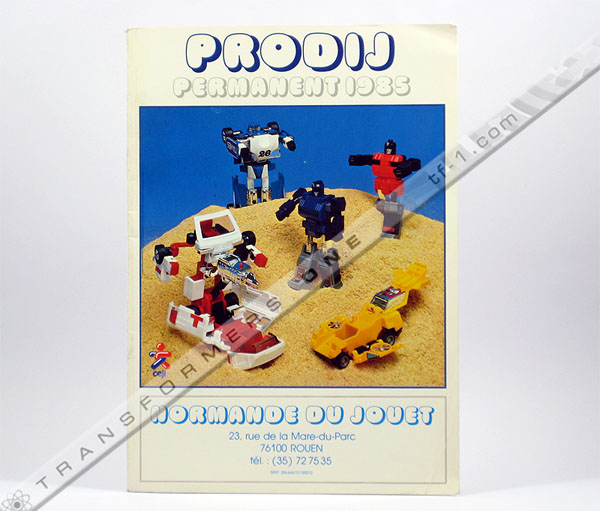 By the end of 1984 / start of 1985, the Ceji Joustra Diaclone toy line had clearly been a success. This 1985 French toy catalogue from Prodij seen above even features the Wave 1 Diaclones on the cover and quite prominently within. Those items pictured are not packaging samples or mock-ups either, they are full production Joustra Diaclones. Interestingly, the radio-controlled Fairlady Z toys shown with the Joustra Diaclones are still in Japanese packaging and listed as part of the Ceji Joustra Diaclone line. While they were eventually released by Ceji Joustra, they were not included in the "Diaclone" line. You can see the Ceji Revell Diaclone kits there too, good times indeed. These Wave 1 toys made it onto the cover of the 1985 Socojou catalogue in France as well, you don't make it onto the cover of two separate toy catalogues without some degree of success...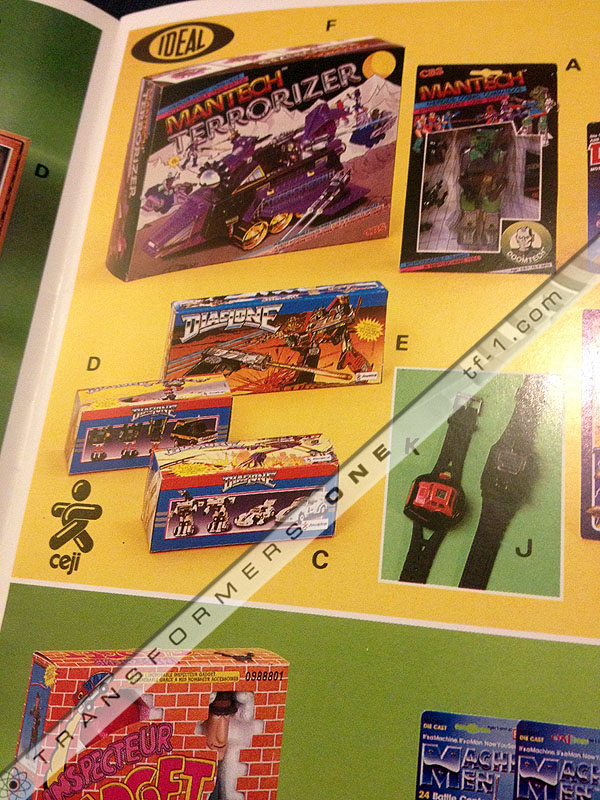 Such was the success of "Diaclone", that apparently there were even Ceji Joustra Diaclone TV commercials, although nobody seems to remember them. This little snippet from the Christmas 1984 catalogue from French department store Printemps shows the Ceji Joustra Diaclone Robocolt with a little "As seen on TV" badge. Interestingly, the Printemps advert is one of the only catalogue entries that show Joustra's logo alongside Ceji's:
~ WAVE 2 ~
What happened next with Ceji Joustra's Diaclone line is not nearly as well known or fully accounted for in any sort of literature, interview or journal available anywhere that I am aware of. It has been pieced together by the dilligent and careful (not to mention expensive) detective work of a number of collectors over many years, and it started with this: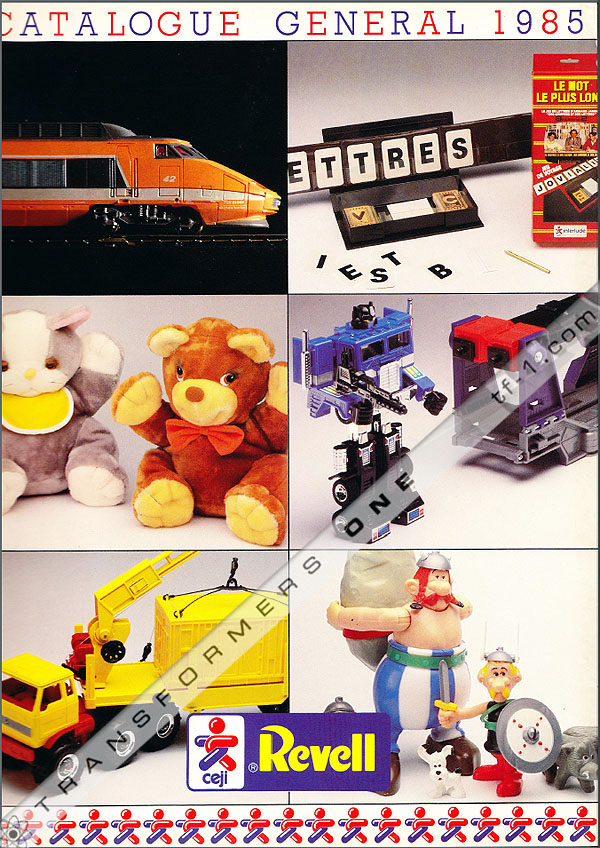 Considering that the Ceji Revell promotional toy catalogue for 1985 featured a Diaclone Powered Convoy on the front, it gives you some idea of the grand plans that Ceji Joustra had for their line of "Diaclones" and the importance they had attached to its projected success. There was much less variety in the toys that Ceji Joustra offered in the second year of Diaclone, maybe due to what Takara could afford to manufacture for them considering that at this time the Transformers line in Japan was being prepared for release and the continuing production of Transformers for North America and other markets around the world, including Ceji Joustra's own mainland Europe market through Hasbro Europe and Milton Bradley.
Under the "Véhicules" chapter of this Ceji Revell catalogue, there is the Diaclone section which starts off with a major new (or nouveau) development; the inclusion of the "Diaclone Transporter" as the flagship toy for 1985's Wave 2. This repackaged Diaclone Powered Convoy was to pick up where the Ceji Joustra Diaclone Truck (Battle Convoy) left off, as another significant character in the War On Diaclona story...but there was to be no continuation of that story. With Multiforce14 defeated, and the story seemingly at an end, where would the Brizzis and Ceji Joustra go with the story?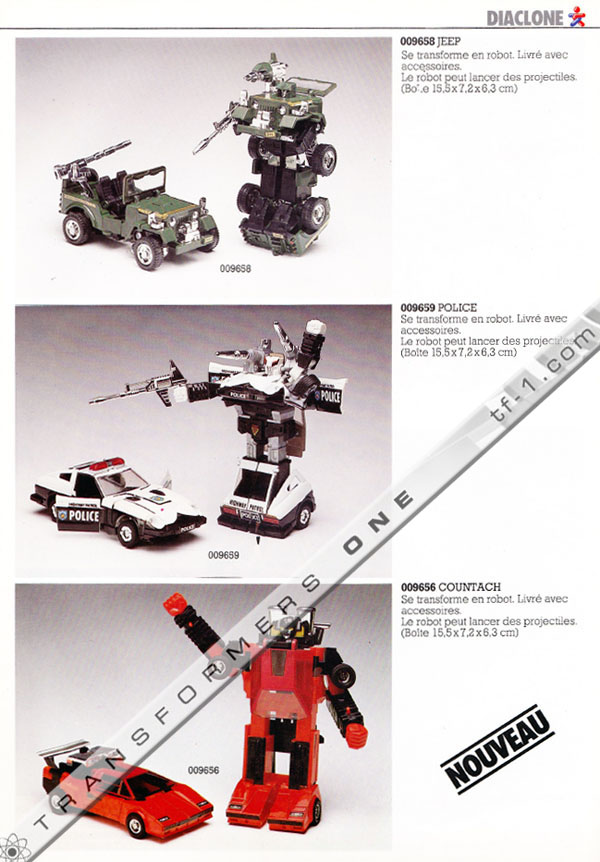 | | |
| --- | --- |
| | |
With all of the above new characters and toys to choose from, Ceji Joustra and the Brizzi twins could have expanded the story even further, but as it was, the Brizzis were no longer working on the Diaclone project, and the eventual artwork for the boxes was created by a different group. The mini comics were still advertised on Wave 2 packaging, but none of them came with a comic as there was no official story published. You can see from the scans of the catalogue above that in addition to the Wave 1 toys and original blue-background Wave 1 stock photography, Ceji Joustra were planning to release an expanded collection of Takara's Car Robots, and all of the Wave 2 stock photography you see in the catalogue is either original Japanese Diaclone or Micro Change.
As a result, for example, the Diaclone Countach shown as red in the catalogue (like the No.1 Car Robot Countach Super Tuning) was actually released in yellow for Ceji Joustra Diaclone, like the Transformers "Sunstreaker". This again could be a result of Takara's shift in priorities for manufacture of their toys towards The Transformers in 1984 as opposed to their own original choice of colours for particular Diaclones. It's surprising to note that the Countach's box dimensions (15.5x7.2x6.3cm) are the same as published for the other Car Robots since the original Diaclone Countach Super Tuning had a smaller box and styro than all other Car Robots, but that could just be a mistake of the catalogue. Apart from the Fairlady Racing shown above, all of the other cars have been found at some stage (Countach yet to be pictured) and none had the Diaclone factory stickers, but just like Wave 1, they had Ceji Joustra Diaclone-branded stickersheets that were otherwise identical to the original Diaclone/MC sheets.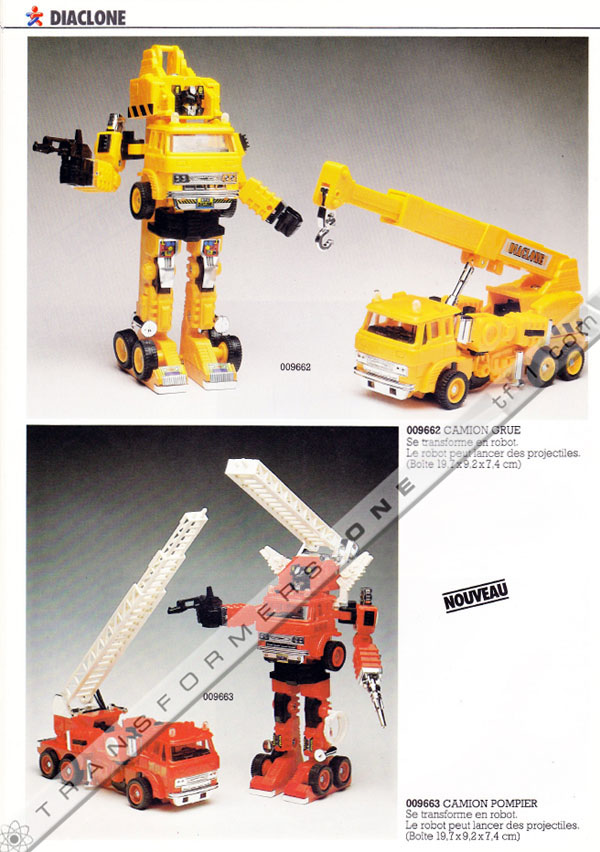 The Ceji Joustra Diaclone releases of the Truck Crane and Fire Truck are immensely rare and have yet to be pictured online loose or inside their packaging. There have been reported sightings of a boxed Camion Pompier, but it could take another 10 years for one to surface in its box, after all, the first packaged Wave 2 Lancia Stratos was only presented to the online community for the first time in 2011 on this site. It is hard to know for sure whether the "Nouveau" refers specifically to the Fire Truck or both toys on the page. Seeing as how the "Nouveau" sign only appears next to the Countach and Corvette as opposed to all the cars on the previous two pages, I tend to believe that it is specific to the Fire Truck even though both toys could easily be considered as new to the line. Promotional material is not always known to be 100% accurate as it is usually produced quite a way in advance of actual release, the use of old Diaclone stock photography is evidence of that.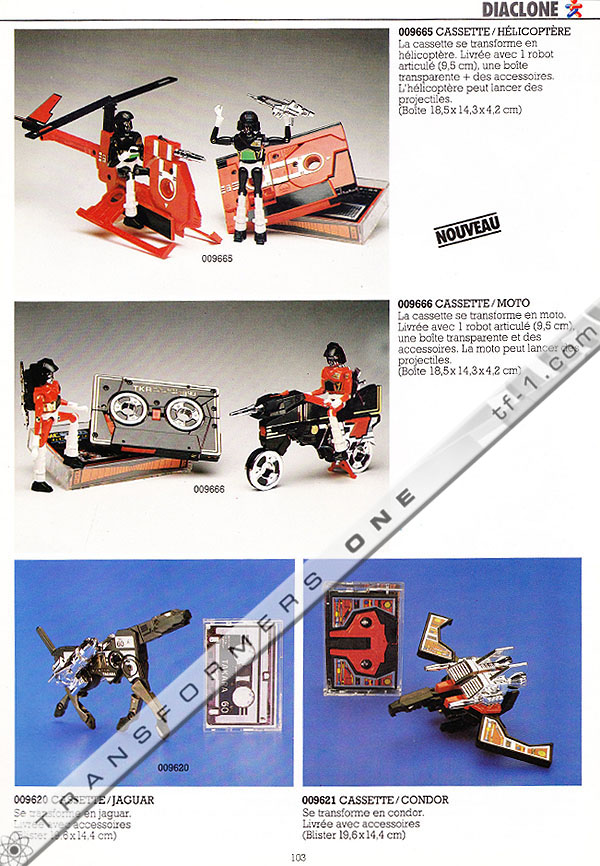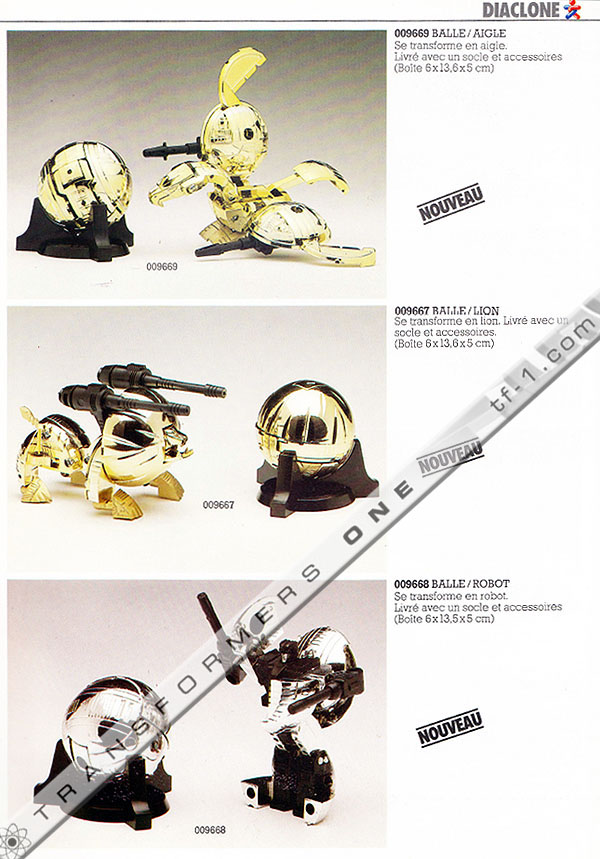 These panels show a number of toys which would be used for Ceji Joustra Diaclone Wave 2 that were not intended for release as Transformers; the larger Cassette Machine Micro Change Battle Bike, Cassette Machine Jet Heli and the Micro Change Meteors. Notice the different coloured background for the Condor and Jaguar, the reason being that those are older Wave 1 stock images, not from the newer photo shoot. A few of these items have been found, but they are among the rarest "Diaclones" anywhere in the world.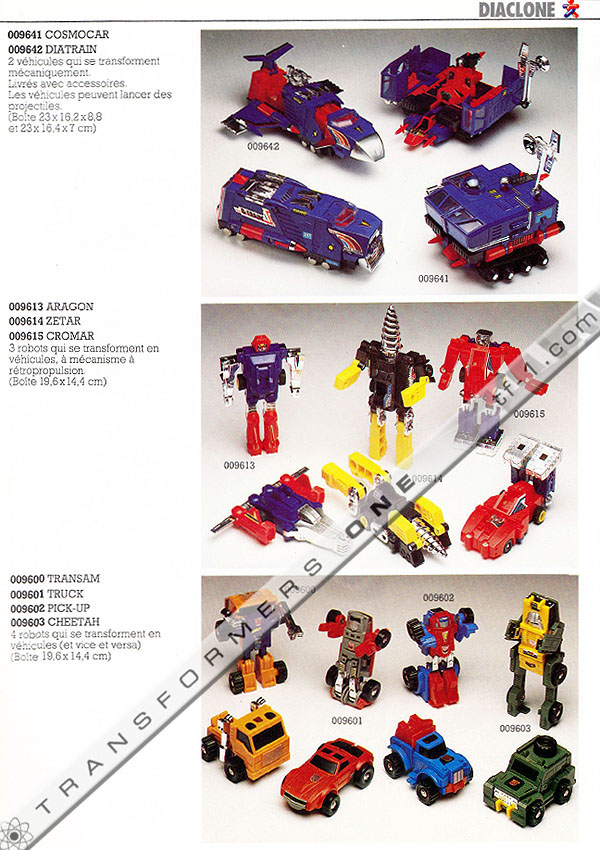 The last Diaclone pages are interesting, not so much because of toys that were new to the "Diaclone" line, but quite the opposite. Multiforce14, Cosmocar, Diatrain, Cromar, Zetar, Aragon, Truck, Trans-Am, Pick-Up and Cheetah were all Wave 1 toys, but appear to have updated stock photography. Kronoform is even labelled as "Nouveau" despite being available in Wave 1! The mini cars are now even photographed with their Autobot symbols, seemingly implying that Ceji Joustra were only allowed to release and advertise these toys if the Autobot symbol was shown. The only genuinely new toy here to "Diaclone" is the Scorpion Watch. Keep in mind that the 1984 Ceji catalogue did not feature any of Ceji's transforming robots, so this would be their first appearance in a trade catalogue, hence the presence of both Wave 1 and 2 figures, as well as questionably-labelled "Nouveau" items.
It is important to note that at this stage, Hasbro and Milton Bradley would have been releasing the first wave of 'MB' Transformers in mainland Europe, so these Ceji Joustra Diaclones would have had to compete with the Transformers' meteoric rise and the whirlwind of promotional material being put out by Hasbro Bradley. So few Wave 2 Ceji Joustra Diaclones have been found that it is possible they were nowhere near as popular as the Transformers toys, simply did not sell in good numbers and as a result are almost impossible to find now. Here are some of the toys in question: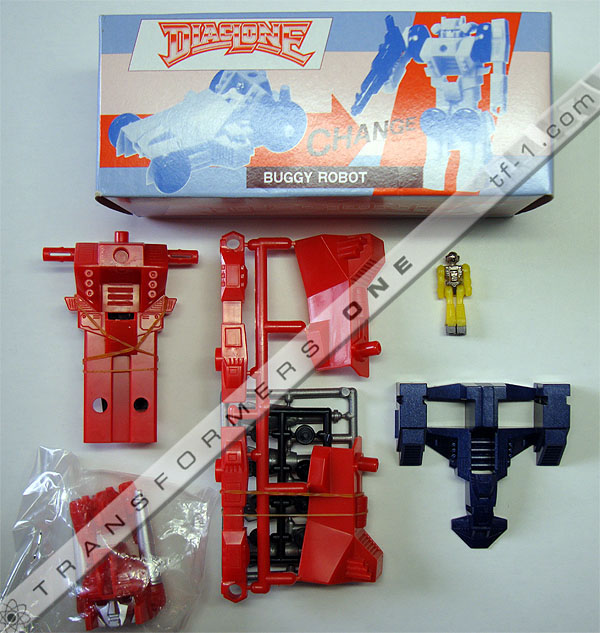 Quite a breathtaking discovery, the Ceji Joustra Diaclone "Camion Porte-Voitures" (previously "Diaclone Transporter") comes with all the trimmings, including the Powered Buggy and blue cab. Apparently the one above was found in unused condition WITH the Diaclone driver, although it is still to be confirmed if others shipped this way. Since unused Powered Convoys come with a plastic screen over the cab, driver and some of the trailer it could be that when Takara sent the toys in styro to Ceji they didn't bother getting under the sellotaped plastic screen to remove the Diaclone drivers. Notice how the artwork depicts the prototype Powered Convoy with the red and white striped cab stickers and red chest piece, and for some reason a Fairlady Z handgun!
Actually, there is a very good reason for the Camion Porte-Voitures's appearance in its artwork:
Complete with red chest piece, Fairlady-type gun, red-and-white-striped cab stickers, orange launchers, the pose on the left fist, the head-mould, all-grey trailer...it's absolutely unmistakeable where the Wave 2 Camion Porte-Voitures artist(s) got their inspiration for the boxart. It wouldn't be the first time the Ceji Joustra Diaclone artists have had to create their packaging art from original Diaclone paperwork, the Wave 1 Diaclone Truck artwork showed that robot with its Battle Convoy-style shoulder attachment and mock-up Trainrobo handgun.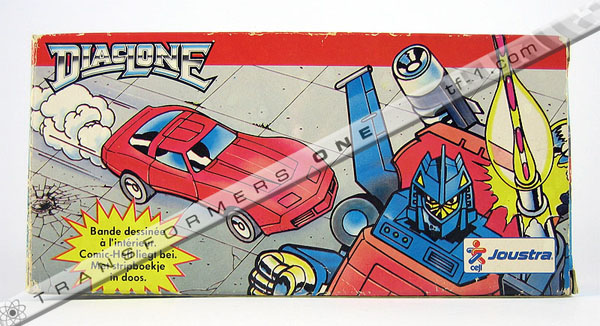 Despite the majesty of the Camion Porte-Voitures, for me the Ceji Joustra Diaclone cars are still the epitome of class and flare. Spectacular presentation, and even though the Brizzis were no longer involved and there were no mini-comics, the style used by the new artist(s) is almost indistinguishable from Wave 1. If anything, the Wave 2 artwork is a little bit more over the top, but not at all to the detriment of the items in question. The characters are now drawn in both robot mode and alternate mode for the box fronts, leaving less space for the "DIACLONE" logo, which has subsequently shrunk compared to Wave 1 packaging. As with the Japanese Diaclone line, the Ceji Joustra Diaclone Corvette was red.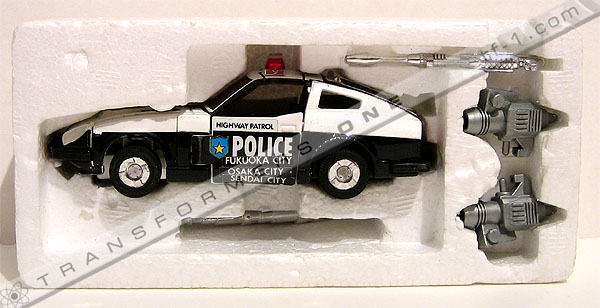 Of particular interest is the Ceji Joustra Diaclone Fairlady Police, whose styrofoam insert has no space for the Diaclone driver. The only other places this has been observed are for the Japanese Transformers line in 1985 for 09 Prowl, and also for the Milton Bradley Transformers Prowl (for reasons that will become clear later). Since Takara were shipping the toys in their styro to Ceji Joustra, by 1985 the styro for Prowl may have been among the earliest to be completed and therefore shipped in its updated no-driver-space format. I would not be surprised to find that the Joustra Fairlady Police had the later Japanese-style Fairlady missile sprue with the small 'steps' in it between the outer frame of the sprue and the missiles themselves as this was also a feature of the Japanese 09 Prowl. I would also not be surprised to find that the Ceji Joustra Diaclone Fairlady Racing had the same styro without a space for a Diaclone driver. The Fairlady Police toy has had its Diaclone-style stickersheet labels applied, hence the many Japanese city names on the toy.
Speaking of packaging changes...
You may have noticed from the Camion Porte-Voitures images above that the Ceji Joustra Diaclone boxes started featuring cellophane windows showing the actual toy inside for Wave 2. This masterstroke of improved design sat nicely between the original Japanese Diaclone Car Robot window boxes and the grid patterns seen on the rival Transformers boxes. These items are so difficult to locate that I have only seen one other Ceji Joustra Diaclone Jeep, heard of one other Fairlady Police (could even be the same one) and no other Lancia Stratos apart from what is pictured here. Due to the limited time these were available and the doubtless reduced distribution throughout Europe by the end of the line, there could easily be less than 10 boxed examples of each piece left today. Since the Fairlady Racing and Camion Grue have never been pictured or sighted, it is sadly a real possibility that no boxed examples have made it to the present day.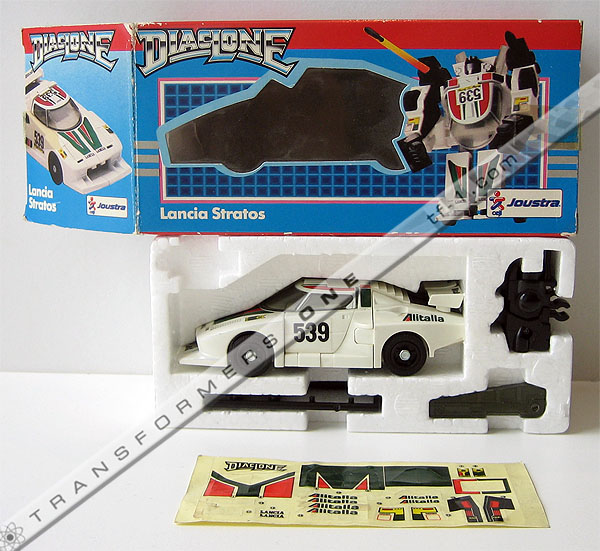 Regarding Wave 2 contents, as mentioned previously the toys had no mini comic or official storyline attached to their release, but would still have come packaged directly from Takara in styrofoam, missing the Diaclone driver, with the altered Diaclone stickersheets still showing sticker placement maps on the back. Interestingly, the Wave 2 cars and Convoy still have the red stripe around the top of the packaging, signalling their sub-category grouping.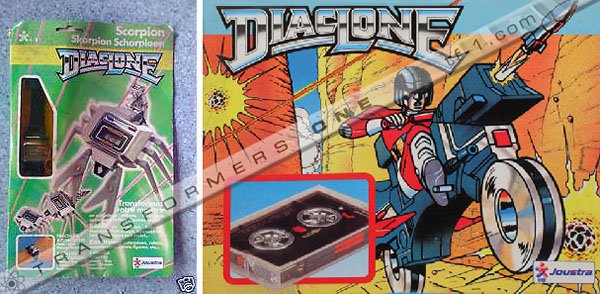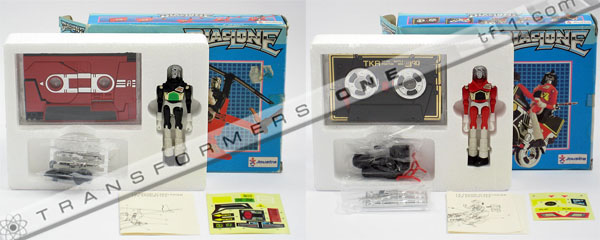 As we get further towards the end of the Ceji Joustra Diaclone line and the more obscure items, the level of rarity just soars through the roof. We're talking of toys who have maybe appeared for sale once or twice in the last 10 years. Remarkably, that makes items like the Scorpion watch, Cassette Moto and Cassette Hélicoptere some of the more relatively 'available' of the Wave 2 toys, seeing as how Camion Grue and Fairlady Racing have never had any sort of recorded appearance. The two larger MC cassettes released by Ceji Joustra had a light blue sub-category band around the top of their boxes and the Scorpion watch had a yellow band, and strangely, it also had green Ceji Joustra Diaclone packaging, completely bucking the trend of generally blue packaging. In the case of the bigger cassettes, it appears that their sticker placement maps were separate to the stickersheets, unlike many previous Ceji Joustra Diaclone stickersheets. The Wave 1 Cosmocar and Diatrain also had separate maps.
This magnificent specimen is the only known packaged Ceji Joustra Diaclone "Balle", most probably one of the final "Diaclone" toys to leave the Ceji factory. It should be noted that by the time Wave 2 toys were being released, the Ceji factory address printed on the boxes had changed from just Drancy in France to also include the ex-Revell facility in Bünde, Germany. The toys were still being manufactured in Japan mostly, as well as other parts of Asia. This Balle Aigle has no artwork, much like the "Kronoform" and "Scorpion" watches released under the Ceji Joustra "Diaclone" umbrella. Also, like the Scorpion watch, the box does not really have the same overall blue or even Wave 2 grid pattern theme, it seems to have an overall black outline. The big "DIACLONE" logo on the box is also just slightly different from all the other specimens ever to have worn that banner; the central stripe/shine of the lettering is no longer black, but blue. The uniformity of the Ceji Joustra Diaclone line appeared to have stopped at the Scorpion watch and these Balle items.
If we assume that everything featured in that Ceji Revell Catalogue General 1985 saw release, and there is no reason not to believe that considering everything that has been found, then here is the complete list of Ceji Joustra Diaclones released between 1984 and 1985 by assortment number and origin:
WAVE 1
-------
9600 - Trans Am - (Micro Change minicar)
9601 - Truck - (Micro Change minicar)
9602 - Pick Up - (Micro Change minicar)
9603 - Cheetah - (Micro Change minicar)
9604 - Van - (Diaclone Change Attacar)
9605 - Cheetah - (Diaclone Change Attacar)
9606 - Turbo2000 - (Diaclone Change Attacar)
9607 - Toyota 4x4 - (Diaclone Car Robot)
9608 - Ambulance - (Diaclone Car Robot)
9609 - Porsche 935 - (Diaclone Car Robot)
9610 - Ligier - (Diaclone Car Robot)
9611 - Diaclone Truck - (Diaclone Battle Convoy)
9612 - F 15 - (Diaclone Jetrobo)
9613 - Aragon - (Diaclone Dasher)
9614 - Zetar - (Diaclone Dasher)
9615 - Cromar - (Diaclone Dasher)
9620 - Jaguar - (Micro Change mini cassette)
9621 - Condor - (Micro Change mini cassette)
9622 - Caméra Robot - (Micro Change Microx)
9623 - Robocolt - (Micro Change Gun Robo Browning) - Red/Blue
9641 - Cosmocar - (Diaclone Cosmo Roller)
9642 - Diatrain - (Diaclone Diatrain)
9650 - Multiforce14 - (Diaclone Gats Blocker)
9655 - Kronoform - (Micro Change Watch Robo) - Black/Gold/Silver
WAVE 2
-------
9654 - Scorpion - (Watch Q Scorpion)
9656 - Countach - (Diaclone Car Robot)
9657 - Fairlady Racing - (Diaclone Car Robot)
9658 - Jeep - (Diaclone Car Robot)
9659 - Fairlady Police - (Diaclone Car Robot)
9660 - Lancia Stratos - (Diaclone Car Robot)
9661 - Corvette - (Diaclone Car Robot) - Red
9662 - Camion Grue - (Diaclone Car Robot)
9663 - Camion Pompier - (Diaclone Car Robot)
9664 - Camion Porte-Voitures - (Diaclone Powered Convoy)
9665 - Cassette Hélicoptere - (Micro Change Cassette Machine Jet Heli)
9666 - Cassette Moto - (Micro Change Cassette Machine Battle Bike)
9667 - Balle Lion - (Micro Change Meteor Lion)
9668 - Balle Robot - (Micro Change Meteor Robot)
9669 - Balle Aigle- (Micro Change Meteor Eagle)

There are a number of things that must be mentioned alongside that list, as until many examples of each piece surface, not a thing can be taken for granted. For a start, the Scorpion watch was originally available in silver and gold for Watch Q, so there is a possibility both colours saw release under "Diaclone" in Europe, and the same goes for the Balle items which exhibited colour variants as Micro Change toys. The strangest thing about the list is that the Kronoform Robot Watch, a Wave 1 toy, has a Wave 2 assortment number undoubtedly linked to its "Nouveau" status in the catalogue. Looking at its packaging, the Kronoform has no Wave 2 features, only showing the Ceji Drancy facility's address.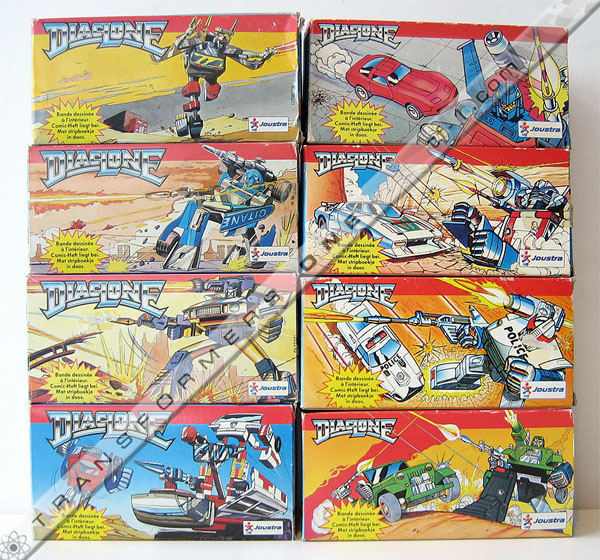 ~ Deconstruction Of A Falling Star ~
So what happened to this fantastic and still mystical line of toys, and why did Ceji Joustra stop producing them? For a while there things were booming and the Ceji Joustra line of transforming robots was apparently doing very well with big things planned for 1985.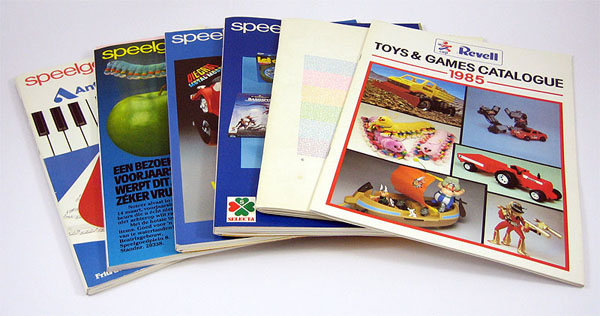 According to an article on Ceji in the March 1985 edition of Dutch toy industry show Trade Mart publication "Speelgoed+Hobby" (see catalogue on the left featuring images of Grapple and Hound), the Diaclone line was going from strength to strength:
"There's no need to emphasize further that 1985 is going to be the year of the robot. Those who have been to Nuremburg and have seen the range of available product there know that the robots are coming and will permanently set foot on Dutch ground. Already last year 'Ceji' presented their 'Diaclone' collection, a series of Japanese robot-machines, that were licensed and released by 'Ceji' under the brand 'Diaclone'.Ceji has already seen extraordinary success with the introduction of the toy line in 1984, because of the quality and the magnificent execution of the concept and because an original product is being offered at a starting price of approximately 9 guilders (MRP).

The Diaclone collection is divided into 4 important groups: 1. 'Micro Robot Cars', with cassettes packaged on blister cards 2. 'Jet Car Fighter', a collection of models with pull back propulsion that transform while driving 3. 'Car Robots', primarily manufactured with die-cast and available as beautiful and original models priced between 20 and 45 guilders (MRP). 4. 'Robots', featuring the bigger models with fantasy models like a photo camera, a pistol and a wrist watch."
So, based on 1984's sales, 'Diaclone' was expected to continue being a roaring success with attractive point-of-sale set-ups planned and successful exhibits displayed at the world-famous Nuremburg toy show. Well as it turned out, Ceji's finances and general health as a continuing business were not good, and by 1985 they were looking at the very real possibility of going under. By this point Milton Bradley had already released a wave of Transformers toys in the same European countries, toys which were not licensed by Takara to Ceji Joustra. At some point a deal was struck between Hasbro/Milton Bradley and Ceji Joustra for the licence to be transferred/bought by Hasbro Bradley so that they could release Transformers based on the moulds that so far only Ceji Joustra could release in mainland Europe. This was recently confirmed by documents released online by Hasbro and Takara pertaining to all licensing agreements and territories involved in the Diaclone and Transformers brand: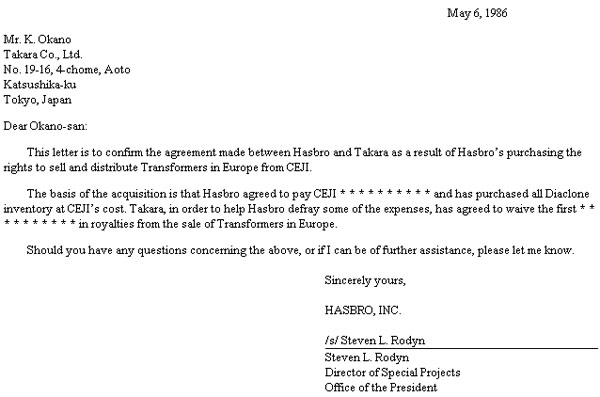 As part of this agreement, it appears that many Ceji Joustra Diaclone toys were repackaged at the factory into Milton Bradley-badged Transformers boxes, and this was done in such a fashion that even 25 years and more later, the link between the Ceji Joustra toys and Milton Bradley Transformers was clear. The cars were repackaged directly into MB Transformers boxes, styrofoam and all, requiring cardboard supports to position them optimally in Transformers packaging.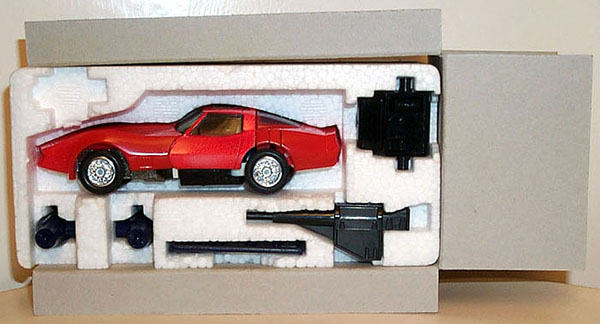 To quote Mijo's magnificent summary of events throughout this period:
"All the MB wave 2 Transformers were available earlier as Joustra Diaclones..

The packaging for all the MB wave 2 Transformers was printed in France, whereas normally it would've been printed in Japan.

It was printed by a company situated very close to Joustra.

MB's Autobot cars came in styro foam inserts instead of the normal plastic bubble inserts, just like the Joustra Diaclone cars.

MB's Tracks happens to be red instead of blue. Joustra had released the same toy in red earlier, with the same mould.

MB's Huffer is packaged in the same weird half-transformed way as his Joustra Diaclone counterpart, Truck.

MB's Decepticon cassettes Laserbeak and Ravage came packaged solo, just like their Joustra Diaclone counterparts, Condor and Jaguar.

MB's Prowl has no Diaclone driver space on his styro insert, neither did his Joustra Diaclone counterpart, Fairlady Police.

MB's 1985 grand prize contest shows a photo of an MB Shockwave together with Joustra Diaclone stock.

Joustra has manufactured Optimus Prime, Megatron and several other Transformers for MB, meaning there was definitely a business relationship between MB and Joustra."
Here is the MB 1985 grand prize contest that Mijo refers to, featuring a large number of Wave 2 Ceji Joustra Diaclones, and verifying that the Countach was released in yellow:
Further verification of the yellow Countach came this year as Mijo discovered that the MB "Sideswipe" was actually just the repackaging of the Joustra Diaclone Countach (pre-Sunstreaker), and quite a mix-up that undoubtedly had its roots in the original Takara-Hasbro agreement to use Diaclone Car Robots in The Transformers.
Considering that the production and release of Wave 2 Ceji Joustra Diaclones must have been halted prematurely to accommodate this deal, we can begin to understand the rarity of the Wave 2 toys. It is also likely that at some stage a few retailers may well have had the same toy in both Ceji Joustra and MB packaging on a shelf, and it's hard to believe that anyone would have opted for "Diaclone" over the Transformers phenomenon at the time, contributing to a lack of Wave 2 Ceji Joustra Diaclones on the 2nd hand collector's market today.
So from the Ceji Joustra Diaclone line, Milton Bradley acquired the rights and stock for:
- Diaclone Truck (Optimus Prime)
- Porsche 935 (Jazz)
- Ligier (Mirage)
- Toyota 4x4 (Trailbreaker)
- Ambulance (Ratchet)
- Fairlady Police (Prowl)
- Corvette (Tracks)
- Countach (Sunstreaker)
- Jeep (Hound)
- Lancia Stratos (Wheeljack)
- Condor (Laserbeak)
- Jaguar (Ravage)
- Cheetah (Brawn)
- Truck (Huffer)
- Trans Am (Windcharger)
- Pick Up (Gears)

Since there were still Ceji Joustra Diaclone toys which were not selected as Transformers, and there would be no more "Diaclone" line in most of Europe, the other stock of toys had to go somewhere.
The last picture on this GiG catalogue scan shows a child playing with loose Change Attacars, but if you look at the boxed toy he is holding, that is a Ceji Joustra Diaclone Van box, complete with Brizzi artwork! The "DIACLONE" logos have been covered up with the GiG "DESTROY CAR" stickers, but you can still make out the Ceji Joustra logo in the bottom right-hand corner of the mock-up package. The "Scatter" toys, Powerdashers, could also be Ceji Joustra Diaclone overstock, the reasoning being that GiG had already released those Dasher moulds in Italy with Diaclone-style packaging. This was their second release in Italy on cards (similar to how Ceji Joustra sold them) and actually sporting the Brizzi-inspired names "Aragon", "Cromar" and "Zetar"! Having said that, they bear a much closer resemblance to the US Takara Diakron releases, down to the design, names and bubble mould used. This again demonstrating the concurrent nature of releases across the American Diakron/Kronoform line and Ceji Joustra's "Diaclone" line:
Here is a production GiG Destroy Car Cheetah, complete with Ceji Joustra stock photography on the box (remember I asked you to take note of it earlier in the article) and what is clearly a Ceji Joustra Diaclone stickersheet!
The tiny writing on the inner flap of the box says "Starlite HKG '85", so exactly like that of the Ceji Joustra Diaclone except one year later, showing that Starlite were still manufacturing the packaging for this mould into 1985 except now it was for GiG, but using the same Ceji Joustra Diaclone stock photography they were originally provided with in 1984. Here are a few more comparison shots of a Ceji Joustra Diaclone Turbo2000 and a GiG Trasformer Destroy Car Van, showing that apart from the box front, the packaging is nearly identical, with the GiG packaging even retaining the Ceji Joustra green sub-category stripe around the box!
I also have a suspicion that a number of Ceji Joustra Diaclone Camion Porte-Voitures (Powered Convoy) toys found their way into GiG's hands in Italy to augment the stock they were receiving directly from Takara. The reason I believe this is that GiG not only released blue cab versions of the Powered Convoy (as Ceji Joustra did), but also red-cabbed versions (possible Ceji Joustra Battle Convoy stock?). Those red-cabbed versions were available in early Battle Convoy-mould and later 1985 Transformers Optimus Prime mould cabs. More importantly, GiG Trasformer toys came with safety-conscious bopper missiles, but some GiG Powered Convoys came with grey missiles, could these have come from Ceji Joustra overstock? There are also similarities in the printing of the Powered Buggy box. Finally, the GiG Trasformer Powered Convoy was officially called "Camion Convoy Portauto", almost a direct translation of "Camion Porte-Voitures". This one's a little far-fetched, but would certainly help explain the many intra-GiG Powered Convoy variations.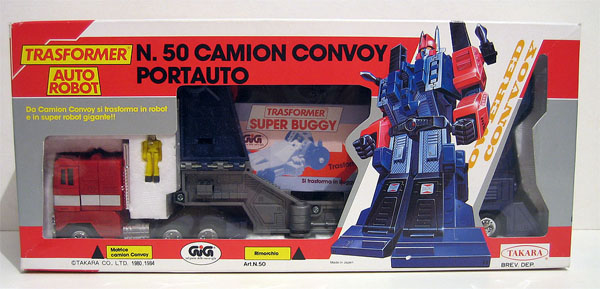 Other non-Transformers Ceji Joustra Diaclone toys like Diatrain, Multiforce14 and Cosmocar could well have helped GiG augment their Takara stock, or even ended up in the UK and sold as Grandstand Converters who also released those moulds.
It is known also that a certain quantity of Ceji Joustra Diaclone Wave 2 toys were imported into the UK and Ireland by Toymaster stores, and possibly other smaller retailers. These might well have been a cheaper alternative to Transformers direct from Hasbro in the mid-to-late 80s as Ceji Joustra sought to clear their stock due to impending financial collapse.
Despite things looking grim for "Diaclone", Dutch comic magazine Eppo re-ran the subscription promotion for a Ligier (or "Legier" as they called it) in late May 1985: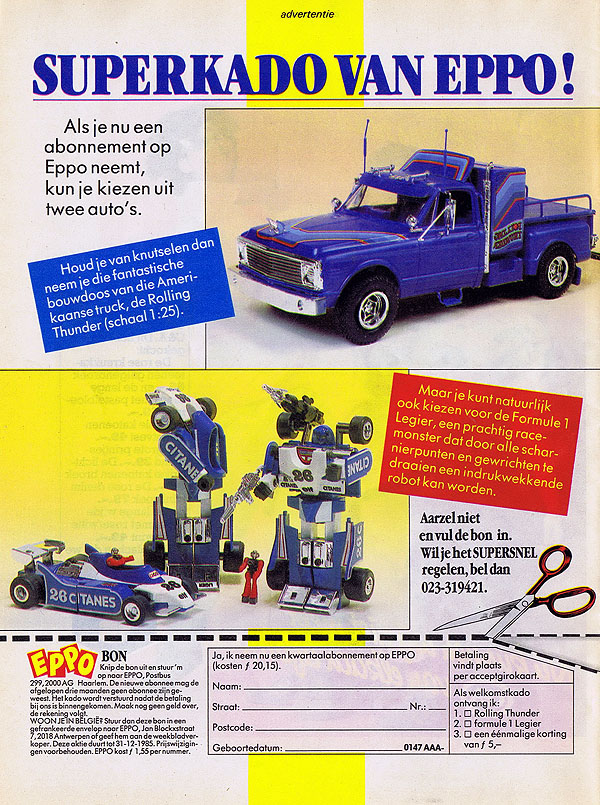 Bizarrely, the Ligier is still shown with a Diaclone driver (saving money on any new photo shoots), the Ceji logo has vanished from the advert and Ligier is now a "Formule 1 race-monster". A case of leftover promotional stock and Chinese whispers? A premonition of things to come? The Porsche 935 is no longer a part of the promotion, possibly due to the fact that it was very popular and stock was short (may explain why MB Jazz is so rare too), somewhat supported by the fact that Ceji Joustra Diaclone Porsche 935 pops up very regularly on the 2nd hand market. Clearly it was hugely popular back in the 80s.
"The Eppo ad is not an ad run by Ceji (or Joustra). It is a an ad run by VNU themselves as a promotion to sell Eppo subscriptions. Of course we already knew that, but I would like to emphasize it, because IMHO it can explain why there is no clear Joustra Diaclone branding. They had these promotions all the time and some other stuff that they gave away was e.g. empty cassette tapes (it was the 80s... :-) and calculators and lots more highly uninteresting stuff compared to this.

These did not always consciously feature the brand or the seller/distributor as you would expect inside a proper advertisement of such a product. E.g. in the 1985 Ligier ad you also see a model kit truck. No obvious information is visible here in the form of the exact name of the product, the distributor or which shops to buy it should you be interested either. The Diaclone promos are pretty much in line with that. Against that background, the lack of branding is not out of the ordinary." - Mijo
Before we reach the conclusion of this unforgettable chapter in Transformers and pre-Transformers history, let's have a look at another toy that Ceji Joustra released in those European countries, but one that was NOT a part of "Diaclone":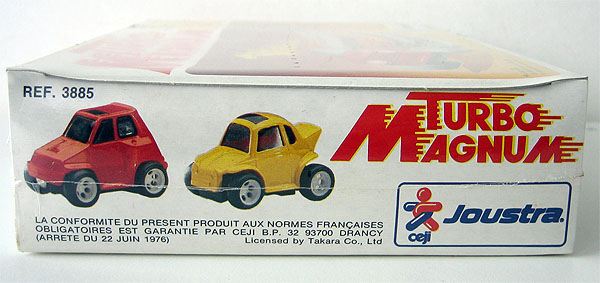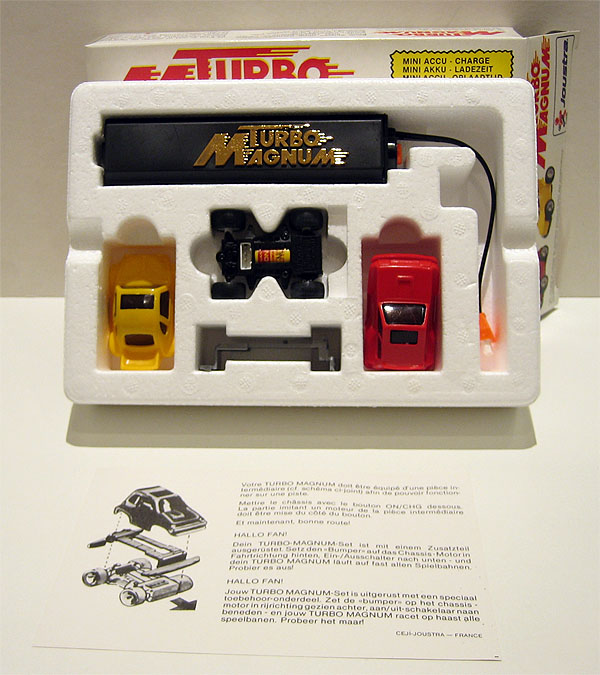 Clearly licensed by Takara and released by Ceji Joustra, it's easy to wonder what the significance of this toy might be in the grand scheme of things. It's even featured in the Ceji 1984 Catalogue Général and the Ceji Revell 1985 Catalogue Général:
And here's the original Japanese Takara version: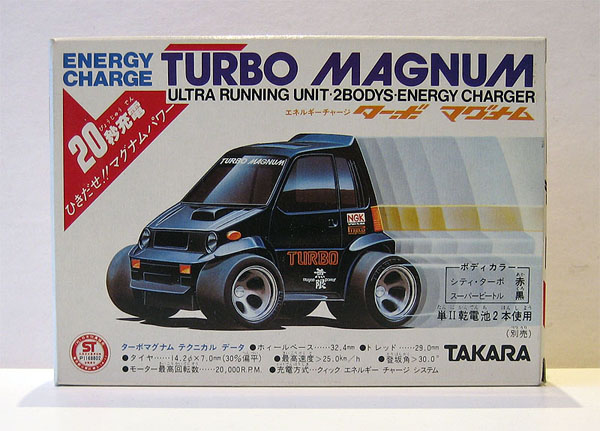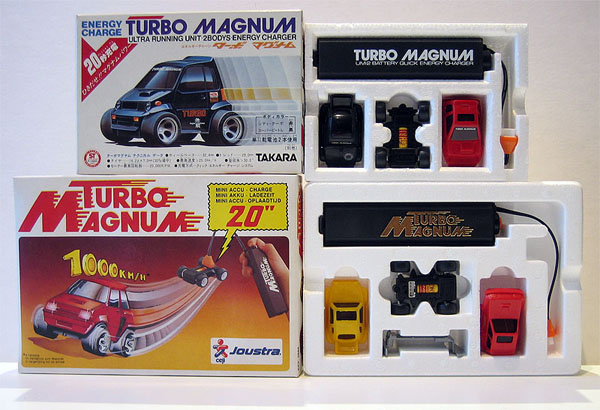 Interesting to note that in Japan it was a Honda City Turbo & VW Beetle set, but for Europe it was changed from a Honda to a Renault 5 Turbo & VW Beetle set. Notice how the 1984 Ceji Catalogue features the Japanese release, but by 1985 the Ceji Revell catalogue showed the European release. Here is a quote from Torsten Abel's (Nevermore) interview with ex-Hasbro Senior Vice President of Research & Development, George Dunsay on the topic of Hasbro's original purchase of the Transformers licence:
"You should also note that the Transformers were not the original major part of the deal. Takara had a mini rechargeable car that they were interested in licensing to a U.S. company. At the time they were working with Mattel as the Barbie licencee in Japan. Mattel did not treat Takara well so they took a chance and gave us the licensee for the cars. We never made them as they were cost prohibitive. These were rechargeable motorized cars. They were briefly introduced in Japan but never in the US. Sorry, the name escapes me. We gave a large guarantee to Takara on these cars. As an exit package from that deal, we gave them the license to the Transformer name and use of our marketing and commercials in Japan. "
The Japanese Turbo Magnum I have photographed above is in fact a Takara sample obtained through an ex-Hasbro employee. This is yet another toy that Ceji picked up the licence for, while Hasbro decided against its inclusion on their product list. On this occasion, this particular toy could have been one of the key influential factors in the Transformers deal happening between Takara and Hasbro and eventually, very indirectly as far as the Turbo Magnum is concerned, signalling the end of the Ceji Joustra Diaclone line. An interesting aside to the Ceji Joustra Diaclone story, for sure.

For two years, Ceji and Joustra brought a very unique and special kind of magic and prestige to the Diaclone name with the glorious efforts they went to in pursuit of the perfect line of transforming robot toys. A magnificent and varied selection of Takara's finest offerings, coupled with majestic, dynamic and mesmeric artwork which collectors like me die for. The War On Diaclona story, while clearly influenced by Diaclone and Transformers, just sets these Ceji Joustra Diaclones apart from everything else, and up until just a few months ago many of us had never seen the images from the final chapter of the story. The fact that more chapters remain undiscovered, and that more Wave 2 Ceji Joustra Diaclones and their unique unseen artwork are still out there just add to the mystique, the legend and the lure of this area of toy collecting.
The ripples of what Ceji and Joustra did with this amazing toy line can be traced and felt throughout the history of European Transformers, being responsible for such collecting holy grails as the Transformers MB Red Tracks and the depiction of Jetfire as leader of the Autobots in European Transformers literature. Those ripples are felt even today by collectors such as myself who spend hours, days, months and years searching for the next revelation, the next hidden toy, the last piece of lost unique boxart, the last chapter of a story that will live on forever in the hearts of the touched.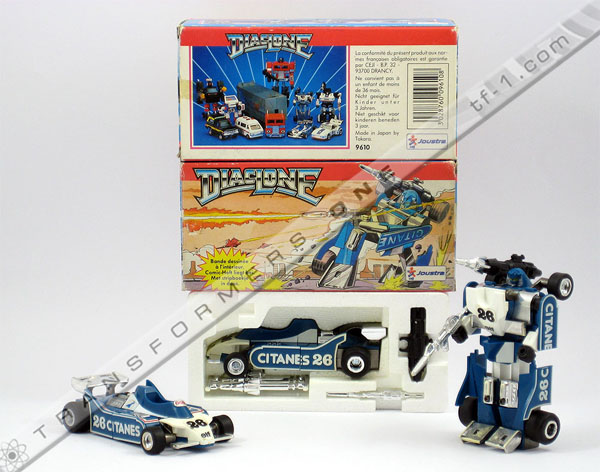 I wish to thank deeply the following people for their priceless contributions to this article: RpChristophe, Mijo, JB Martin, Bert, Paul Hitchens, Matteo Pigliucci, Giacomo Cellesi, Jim Paranoia, Torsten Abel, Himawari, Alessandro Musconi, Marco Salerno, Morgan Evans, Paul Vromen, Vincent Tijbout and Ben Munn.
All the best
Maz@tf-1.com